Can't believe it's already been one year since joining Beamery mid-pandemic! The Culture & Experience team is led by myself, Sinead Daly, Director, Culture and Experience and the amazingly talented Laura Jackson, Culture and Wellbeing Manager. Our small team is light on their feet, but not on ideas. 
When Laura and I  first started working together, we had a long hard think about what we wanted to achieve - which ultimately boiled down to ensuring that we're building a fair, open, and inclusive environment at the heart of everything we do - so that our people can BE AMazing!
Below we've shared a little bit more about our proudest moments...
Revamping Our Values
One of our first moments of impact was revamping Beamery's values. We quickly learned that everyone had a slightly different interpretation of our values, as a result they were not embedded or adopted. Now, inclusion and collaboration sit at the heart of our values - each with its own virtues and visual identity (check them out below!). They've also been woven into our ways of working; our growth frameworks, interview questions, praise, events reporting and more. They're so much more than words. You can read more about our Culture & Values here.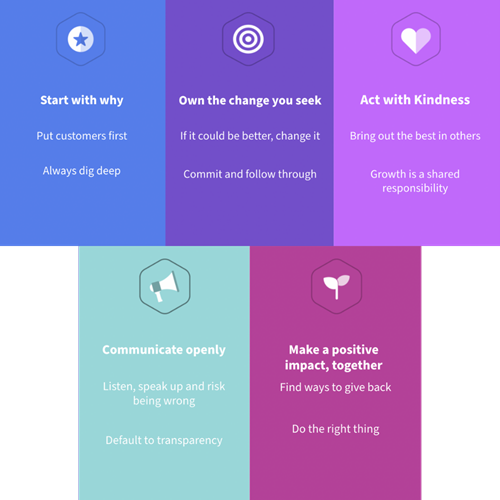 Pulling off our first-ever a Virtual, Global Offsite
Our two-day offsite, Beamery at Home 2020, was themed around our Act with Kindness value. We wanted to encourage exploration, so we designed it with a 'Choose Your Own Adventure' format. We tackled big topics; building trust, building resilience, inclusion and allyship, psychological safety and more, with amazing speakers who prepared both visual and audio content to help us avoid that zoom fatigue! We also spent time creating together in Spark Squads; with a cook-a-long, special Beamery edition of D&D (thanks Sophie Coleman), a Beamery speed networking bot, pixel painting and the launch of our 12 Days of Festive Giving!
Putting Diversity & Inclusion on the Map 
We launched a partnership with startup Fair HQ, taking an evidence-based approach to develop a fair, open and inclusive environment for our people. We realised company-wide commitments to our team, set up a #diversity_and_belonging channel  on slack, and a monthly cafe to bring those conversations to life. We launched an inclusive calendar, which led us to delivering a Women's Mentorship Cafe,  Pronouns Inclusivity Campaign and more. Coming up, we're launching Beamery's first ever Engineering Bootcamp in partnership with Academy and are currently building out our diversity, equality and inclusion manifesto (so watch this space!)  
Launching our BE AMAzing campaign
To recognize all the hard work that contributes to Beamery's growth (which we've had a lot of!), we launched a package of ongoing support for our people - with a monthly BE AMazing budget, enabling them to unlock their potential, through their own digital Ben Mastercard. You can read more about what we got up to here!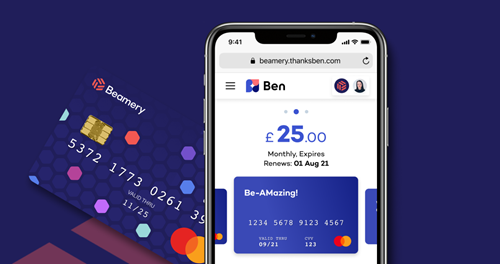 Deepening our Learning Culture 
We launched company Spark Hours, starting with days for focussed work every two-weeks. (Learn more here) Our ambition is to scale this to become an ultimate day for learning and making a positive impact. We also launched a concept 'lightbulb learning moments', so that we can solidify a culture where we communicate openly about our mistakes and moments of failure - and grow together! As a starter, we've baked this into our Praise feature, monthly reporting, and company-wide meetings. 
We've achieved so much, so picking a top five here was extremely difficult! 
From streamlining our internal communications, revamping internal meeting culture and rituals, building out our Employer Brand v1, developing Beamery for Good initiatives, launching book and movie clubs and kindles, working from home contributions, revamping our onboarding and recognition programmes (including our Value Champion Awards!), launching our first ever employee satisfaction index, creating wellness wednesday and mindfulness activities there's been so much to choose from. 
We've also learnt so much along the way - whether it be sharing communications that don't land, running events that don't get the traction we expected, struggling with swag logistics in face of brexit and a global pandemic or being too reactive, we're constantly reflecting, and have regular retrospective meetings to help us identify where we could really stretch ourselves and grow!
Coming up, we're excited to deepen our DE&I efforts with a manifesto, bringing in great guest speakers, planning our return to the office, delivering a company-wide hackathon, leveling up our onboarding practices so that we can support our anticipated growth plans (if you hadn't noticed, we're growing!!) and much more...
Interested in joining our Culture & Experience team?
We're looking for an Internal Communications Manager to join us - apply here!