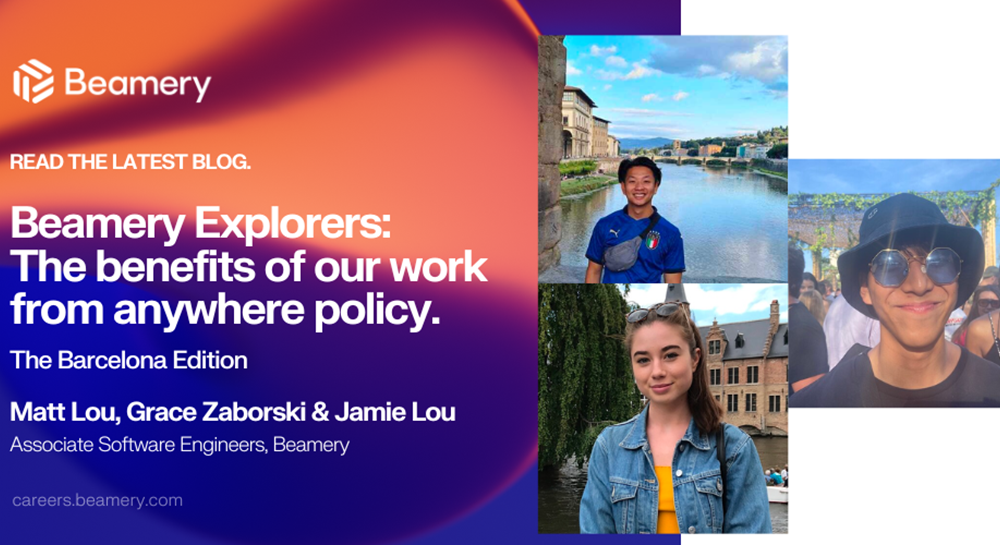 We caught up with three of our engineers about their experience of taking advantage of 'Beamery Explore',  one of the new perks from our Holiday policy.
In this article, Matt, Grace and Jamie made good use of this benefit, and how working from Barcelona improved their mental health and productivity. As a company that is growing exponentially, we want to enable everyone who works at Beamery to grow in terms of skills, capabilities and impact. This starts with prioritizing our employees' well-being and happiness. In July 2022, we switched up our Holiday policy, and one of the new features was 'Beamery Explore', our initiative that lets our people work from another country for up to 25 days each year. 🌟
There's nothing more enriching than a change of scenery 🌴, or more energising than working a little closer to family or friends. With Beamery Explore, our people are given the flexibility they need for that change of scenery when they need it most. In addition to this, we have every First Friday of every month off, to start each month, recharged and refreshed. We also offer one of the most competitive sabbatical schemes: after two years as an employee, our team is entitled to a 1-month fully-paid sabbatical and, after four years, a 2-month fully-paid sabbatical! 🔥
👀 Read on to hear from three of our engineers, Matt, Grace and Jamie, about their experiences with Beamery Explore. They took the opportunity to work remotely from Barcelona for a month, and have valuable advice for people or companies looking to implement this benefit.
-- 
Who are you, what are your roles and team, and what do you do at Beamery?
🚀 I'm Matt Phan, an Associate Engineer in team Iceberg. I joined Beamery via the 2021 Bootcamp and have been working in Iceberg since March. I've been focussing on backend technologies and I've really enjoyed the challenge so far.
⚡️ I'm Grace Zaborski, a Fullstack Associate Software Engineer in team Aether. At the moment, our main delivery feature is Campaigns. I use React on the frontend and NestJS on the backend, and Typescript as the language for both.
💡 I'm Jamie Lou, an Associate Software Engineer on team Vanguard, and we primarily work on Beamery's Public API. 
What was the drive to move to Barcelona for 2 months? 
🚀 Matt: Beamery gave us the opportunity to work remotely abroad. To make the most of the opportunity, we thought about which places we'd like to stay in Europe. Jamie suggested Barcelona and, since we had all visited Barcelona before and loved it, we thought it would be a great place to stay! 
⚡️ Grace: Since finishing uni amid a pandemic, I've been itching to travel. I hoped that by exploring new cities and cultures and meeting people with wildly different lifestyles and mentalities to my own, I could become a more well-rounded individual. Like with making the transition into tech, I enjoy a challenge. I was excited by the challenge of improving my Spanish, navigating life in a foreign city and exploring the ups and downs of remote working. I'm very thankful to Beamery for encouraging me to take this leap and want to encourage others to consider integrating travel (and other passions) into their daily lives if it's accessible to them. 
💡 Jamie: I was driven to go to Barcelona because of the sunny weather, the beach, and the surrounding mountains for cycling and hiking. Barcelona having some of the best bars in the world was a bonus and surprise. I had also heard from others that Barcelona was a highly international place and that it would be a melting pot of different cultures.
What were the steps you took to make it happen? And how did Beamery support you?
⚡️ Grace: Matt, Jamie and I have different managers, who we separately approached with the idea. They were all very encouraging and quickly helped us get the remote working arranged with the People team. 
💡 Jamie: For me, it was initially researching tax laws and ensuring there weren't any reasons preventing me from working abroad. Once that was clear, I reviewed the costs for each of the countries I was interested in to see if it was feasible. It was a smooth process, so I have to thank Kunal, my Engineering Manager, for making it so easy.
What reservations did you have about it? 
🚀 Matt: My primary reservations were how living abroad would affect my productivity at work. I was worried I would feel more distracted, both because of the new environment and because I wouldn't be able to work in the office for some time. In reality, I found that I was just as productive. I think this was partly because I was looking forward to my downtime more so than in London, so I was more determined to make work hours count.
⚡️ Grace: Would it be stressful juggling working and getting accustomed to living in a foreign city? Would I feel I was letting my team down if I didn't keep up my delivery pace… or letting myself down if I didn't explore Barcelona sufficiently?
💡 Jamie: My reservations about going to Barcelona would've been how the distance would have affected my relationship. Luckily my partner was super supportive and she had plans to go on holiday for a couple of weeks whilst I was abroad, so it worked out nicely.
What surprised you about the experience? 
🚀 Matt: Living in El Born, which is near many activities in Barcelona, meant that I didn't have to spend time travelling from place to place like I would in London. There were hundreds of bars within a 10-minute radius, the beach was a 12-minute walk, and the best mountains and hiking spots were a quick cycle/train ride away. I felt like I could pack more things into my downtime despite working the same hours.
⚡️ Grace: I was certainly not expecting to be more productive here in Spain. I'm also surprised to be the most anxiety-free I've been since becoming an Engineer. I've managed to achieve everything I wanted to do – I've broadened my horizons, developed professionally, and had loads of fun in the meantime. 
💡Jamie: I was surprised that I felt more productive than when I was at home. I think it's the combination of being surrounded by my peers, who were also working hard, and wanting to feel like I've 'earned' my downtime.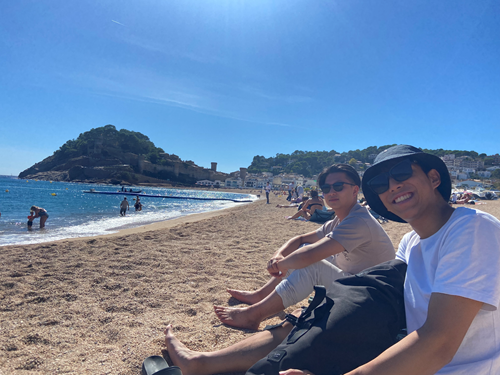 How did you find virtually collaborating with your teams? 
🚀 Matt: As I am in a team that tends to collaborate virtually for the vast majority of the time, my collaboration arrangements didn't have to change much with them. I was able to collaborate with Team Iceberg without a problem on Zoom and via Slack. Even when my team was collaborating in person in the London HQ, I was able to dial in without a problem and make my normal contributions. 
Many of our team members are based in the EU, so the time zone of Spain was not a problem. In fact, I appreciated the extra hour in the morning, which would allow me to catch up on sleep or go for walks (Spaniards seem to like to do things later anyway!). 
⚡️ Grace: For me, the remote working arrangement has worked great! During my time here, we've pushed our general access release for Campaigns. I'm proud to have contributed to the latest feature and templates. I think that my team is well equipped for hybrid work; we pride ourselves on speedy and clear communication, whether online or off. Despite this, I've still felt the pain of working remotely as my team in London spends every Tuesday religiously in the office and I've certainly missed this time to connect with them. Tuesdays are usually our sprint planning day, but it doubles as an opportunity to catch up and chat about outside-of-work matters. However, we do have weekly rituals meant to emulate this (like 'Coffee and Catch up' for chatting and games). Thankfully, Beamery has regular remote-friendly onsites (specifically for EPD and company-wide) to sponsor everyone coming together, which definitely helps to bridge this gap. 
What have been your highlights? 
🚀 Matt: Cycling in Girona and to Montserrat! 🚴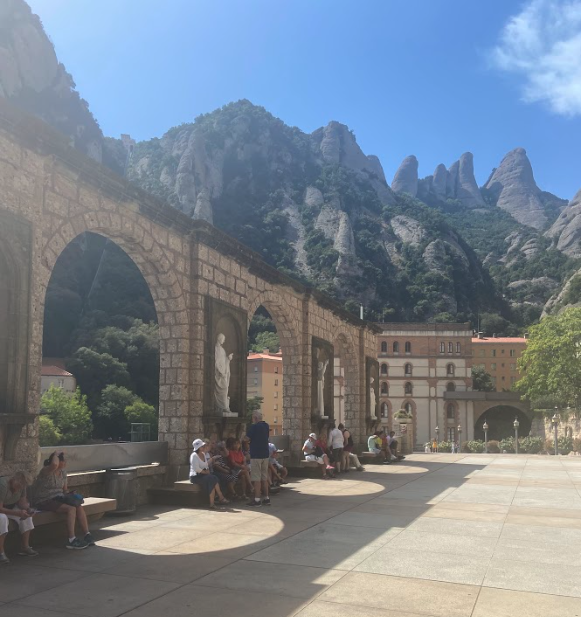 ⚡️ Grace: Tossa de Mar - a day trip to a coastal town NorthEast of Barcelona, on the Costa Brava. We got overstuffed on tapas, took a food-induced siesta on the beach, and enjoyed the ocean views from the Medieval castle that outlines part of the coast. 🏖️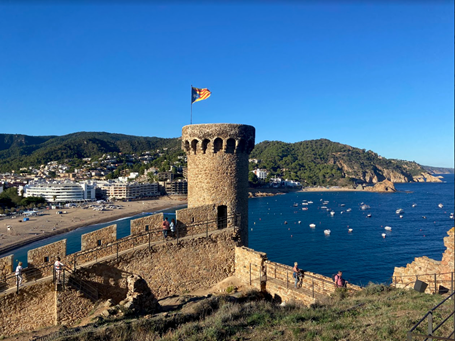 💡 Jamie: All the food! 🍽️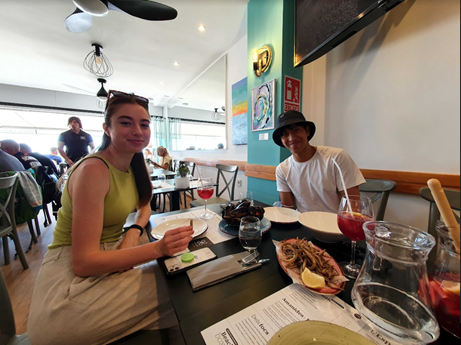 Any learnings or advice you would give someone looking to do the same thing? 
🚀 Matt: I've learned that moving to another country doesn't have to be a massive commitment. With the Beamery Explore policy, you can try out a new place for a short period and not have to forgo your salary or get a visa (at least in the EU). It might be just what you need if you feel like you're in a rut in your current location.
I would suggest that if you are planning to go to a non-Anglophone country, to gain some basic proficiency in the local language as it will make your connections with people and immersion in the culture more enriching. 
💡 Jamie: If you're reading this and considering doing the same then I'd say go for it! It's been such a great experience and I would definitely do it again. It's a great way to get a taste of what it's like to be living in a different city permanently, and great for expanding your horizons.
One piece of advice would be to learn some basic phrases or the language of the country you're planning on visiting. I definitely feel my experience would've been even better had I learnt some more Catalan or Spanish. 
What advice would you give to companies looking to implement this in their business?
🚀 Matt: I think it's a phenomenal policy. Companies that collaborate mostly remotely should consider it as a way to help attract and retain staff. Giving your employees the ability to explore different parts of the world without having to pause their careers will make them feel appreciated, and it may open their eyes to new ideas which may boost creativity at work.  
⚡️ Grace: Speaking from my experience here in Barcelona, I felt it has been much easier for me to leave work at work and develop a healthy work-life balance. Knowing this, an employer's commitment to supporting their employees' mental health would be a must for me in the future. Why should a company care? Not only does it help retain current staff, but it might also help them work with a fresher mind and will likely interest new talent too. 
I consider the Beamery Explore policy alongside their first Fridays unplugged, development days, and volunteer days to be massive perks. There's no doubt I trust that Beamery commits to its values and stance on a healthy work-life balance. Only two years ago, in a pre-pandemic climate, it would have been unimaginable for people to adopt hybrid working. I imagine the same might be true for long-term remote working in the future, and I'm proud to be a part of a company leading the way. 
💡 Jamie: I'd definitely argue that having something like this would attract me to a company more. I think it's a great way to show that a company considers their employees' mental well-being and supports their initiative to expand their experiences and knowledge outside of their day-to-day work.
It also shows that companies trust their employees to have the same productivity levels, which leads to it being reciprocated in a much healthier way. I'd also argue it has helped improve my relationships with my colleagues (with whom I shared this experience, and I also had the opportunity to meet a member of my team who lives in Barcelona).
What's next? 
⚡️ Grace: Given the success of working remotely here in Barcelona, I'm ready to push myself further: going further afield, getting submerged in a more unfamiliar culture, attempting remote working for longer than two months – generally working towards adopting remote working as a way of life. Next year, I'm excited to take advantage of the paid month-long sabbatical that Beamery offers and am considering enquiring about Beamery's support for EU visas, both of which make my future remote working aspirations a real possibility. 
💡 Jamie: I'm considering switching to a remote contract where I'm still based primarily in London, but it would offer me the flexibility to work remotely abroad. I'd really like to work in either Lisbon or Berlin in the future and it's awesome that Beamery has a tech hub in Berlin, which would make this next step much easier! It'd be awesome if Beamery supports this and offers opportunities to work abroad for longer to get an even fuller experience.
--

Our Holiday Policy is just one example of how we continue to put people first (read more about our benefits here). We're always focused on how we can build Beamery for the long term, which is why all our employees are shareholders, and everyone has flexibility around where they work and when they come to the office.
And we're hiring! You can find all our open positions here.