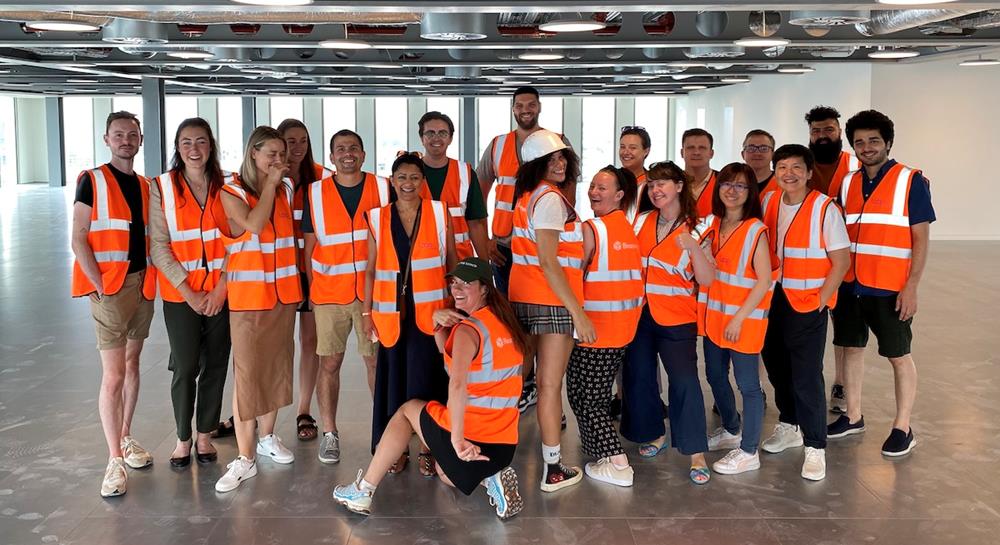 It's official. Our London HQ is moving to the new HYLO building in London… and we cannot wait! With our office still in the construction phase, we've been providing some exclusive sneak peaks for the BeamTeamers, and of course that meant Beamery branded hi-vis hype swag for all our visitors.
Here's a little behind the scenes video of our new office 
More about our workplace strategy…
As a company, we are growing rapidly. Last year we celebrated the milestone of 200 BeamTeamers and now we're tracking for 500 by the end of our financial year in January.  That's why, as we grow, we need to ensure that the way we work and where we work enables all of us to be amazing in our roles.
As we look to our long term growth and success, there are three key pillars of our workplace strategy:
The future of work is flexible, which is why hybrid working is here to stay. 
We can make a positive impact, together, which is why we want to create moments that give everyone the opportunity to meet and collaborate in person. 
We need a place to call home, and with London being our HQ, we want to invest in a space that's fit for the BeamTeam when we do come together.
💻 Supporting hybrid working
In our Future of Work survey (powered by Hubble, in 2021) we learnt that:
77% of our team want to meet to collaborate, maintain culture and be social
97% of our team value the ability to work more flexibly 
It's clear we want an optimal balance of both words – a hybrid approach. And that is why our hybrid working is here to stay. 
👀 Our workplace vision
When we meet in physical spaces, we want to create moments of magic , and we also want to continue to optimize for productivity. We believe that:
'How we work' is more critical than where we work.
'Where we work' is about being at the best place to do our work.
'When we work in Beamery spaces' it's special – we're creative and collaborative, and able to produce and ship our best work.
🇬🇧 Investing in our London HQ
We are building a winning team for the long term, and a lot of our team will be in our London headquarters. As we plan for the future, we need a space that is big enough, and awesome enough, for the BeamTeam. 
Over the past year we've been hard at work finding our new headquarters. Based on our employee feedback, we chose a location that has a commute of less than one hour for at least 70% of colleagues, and is well placed when it comes to transport hubs and amenities. (We all need good food and drink options around us!)
From mid August, we will be moving into a two-floor office at the HYLO Building, 105 Bunhill Row – offering great views of London from the 20th and 21st floors (of a 28-storey building).  🎉
Some of our favorite features of the office include:
Location, Location, Location (and views for days): Not only are we in central London surrounded by anything you could ever want (including transport), we also have incredible views, from St Paul's to the BT Tower. Pets are always welcome – we have always been pet lovers at Beamery, and this was one main requirement of any building we moved into.
Innovation Lounge: Creating collaborative moments is key for us in our new office, and we're excited for how teams will use our spaces to innovate, and be amazing in their own way.
Our sustainable first approach: We deliberately chose this building due to its approach to centering sustainability, health and wellbeing, and throughout construction we've focused on embedding sustainable procurement methods for everything you'll see.
Beamery Studio: We will have our very own audiovisual studio for our internal and external podcasts, and something that we'll be sharing with community groups when they come and visit.
Wellbeing Room: As a company, we live with an inclusion-first mindset, so we think this should come as standard in any workplace, but it's great to have our own wellbeing room, a space for meditation,  prayers and mothers , along with our gender-neutral facilities.
We won't give too much away! You'll just have to join our team and come see it for yourself. Find all our open roles here