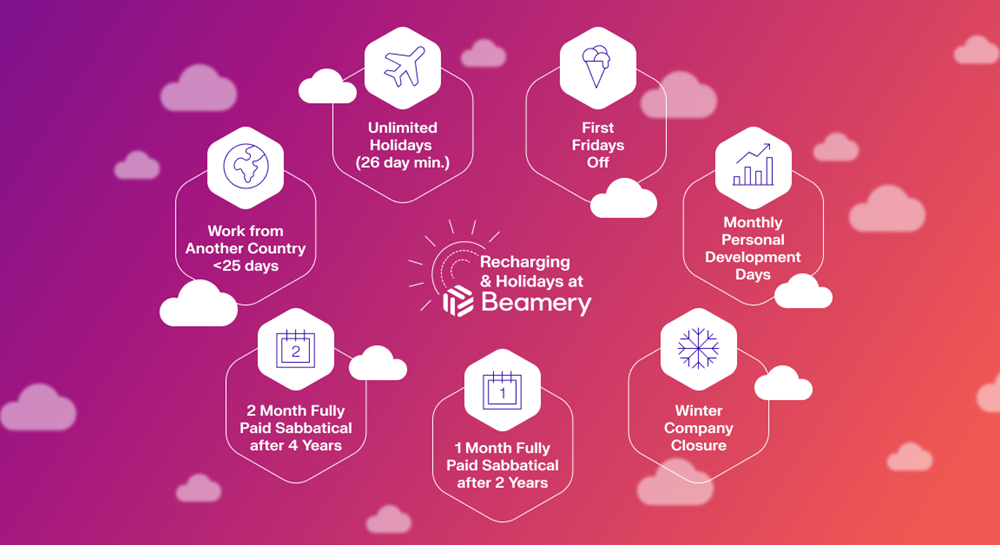 Do you like holidays? 
We do! And thanks to our groundbreaking new Holiday Policy, we are saying 'Hello' to a refreshing, people-first approach to annual leave. The BeamTeamers are ready to say 'Hello' to more time with the kids, short shorts by the beach, Friday yoga or binging the latest season of Stranger Things. Whatever you're ready to say 'Hello' to, Beamery has your back.
Let us save you some time; here's the 2-minute version.
👂  We listened to our people. We reviewed the data.
🚨  We uncovered a challenge. People were not taking enough time off. Unlimited Holidays on its own wasn't good enough. Our people needed better guidance, more company-wide days off, and better holiday incentives based on tenure.
🏝 So, we did something about it. Starting from August 2022, all our employees are getting a new revised Holiday Policy (that we think is pretty awesome!)
🥁  Enough waiting, here it is:
Starting on August 2022, in addition to our flexible and hybrid ways of working, all Beamery employees will receive: 
🏝 Unlimited Holidays (26 days minimum) + Bank/Federal Holidays
📅 First Friday of every month off
🌱 Monthly focused Personal Development Day
⛷ Winter company closure between Christmas and New Year
2️⃣ After 2 years, take a 1-month sabbatical (with full pay) 
4️⃣ After 4 years, take a 2-month sabbatical (with full pay)
🌍 Beamery Explore: Work from another country for up to 25 days each year.
If you're interested in learning more, here's a bit more information:
📊 What did we uncover from the data?
To get here, we dug deeper to understand our holiday data, listened to our people, and gathered manager insights. Our aim? To ensure everyone at Beamery has the bandwidth they need to thrive – starting with time off. We're building for the long-term, balancing clarity, intentionality and flexibility.
There's no doubt that the line between life and work is becoming increasingly blurred. While we had all the best intentions with our Unlimited Holiday policy, after doing some research and speaking with our employees, we learned that people were not taking as much time off as we'd expect. We found that this was related to many factors, but one was a lack of guidance.
After we gathered all the research, we had a good idea of what our employees wanted, but needed to go a step further. Before we made the final decision, we checked with our managers to make sure we were on the right track. And, finally, we had our updated Holiday Policy. 
🚥 What changes did we make?
Our people loved the flexibility and the foundations of trust that came with Unlimited Holidays. So, instead of removing Unlimited Holidays, we added a minimum guidance to go along with it (26 days). This means we want all our people to take at least 26 days off (this does not include Bank/Federal Holidays, or other mandatory days off). 
We realized we had to go further. As cruel as it sounds, we decided to add mandatory time off every First Friday. We thought this would be a perfect way for our employees to start off each month, recharged and refreshed. Lastly, since the inception of Beamery our entire company closes between Christmas and New Years, which our BeamTeamers love, so we kept that in as well.
Let's not forget one of the most exciting new additions: sabbaticals! Let's face it, we work so hard to find incredible people, we want to do whatever we can to keep and reward them. So, we set out to offer one of the most competitive sabbatical schemes that we've ever seen. After two years as an employee, you are entitled to a one month fully paid sabbatical that you need to take within two years. After four years, you're entitled to a fully-paid 2-month sabbatical! We recognize that giving employees a chance to do something life-changing in their tenure can be a game-changer for health, wellbeing, and productivity. Think about what you can do with a 2-month sabbatical! You can learn a new language, hike a mountain (or 5) or do something positive for the world around you. There's an infinite amount of things our people can do with these sabbaticals, and we can't wait to see what they get up to.
On top of holiday days, it was important that we also carved out time for our people to focus on their own development. This is why we're introducing monthly development days. Personal Development Days are customized for every employee, and each person will have a plan for learning & development topics for these specific days. It's also a great time to host major project team meetings, or conduct team-building days – we're asking our teams to be creative on how you can use the time to advance learning.
Finally, Beamery Explore is our new initiative that lets our people work from another country for up to 25 days each year. There's nothing more enriching than a change of scenery, or more energising than working a little closer to family or friends. With Beamery Explore, our people will be given the flexibility they need for that change of scenery for when we need it most.
So, that's it!
Our new Holiday Policy is just one example of how we continue to put people first. We're always focussed on how we can build Beamery for the long-term, which is why all our employees are shareholders, and have flexibility around where they work and when they come to the office. 
Oh, and guess what, we have great other benefits. And we're hiring! You can find all our open positions here: