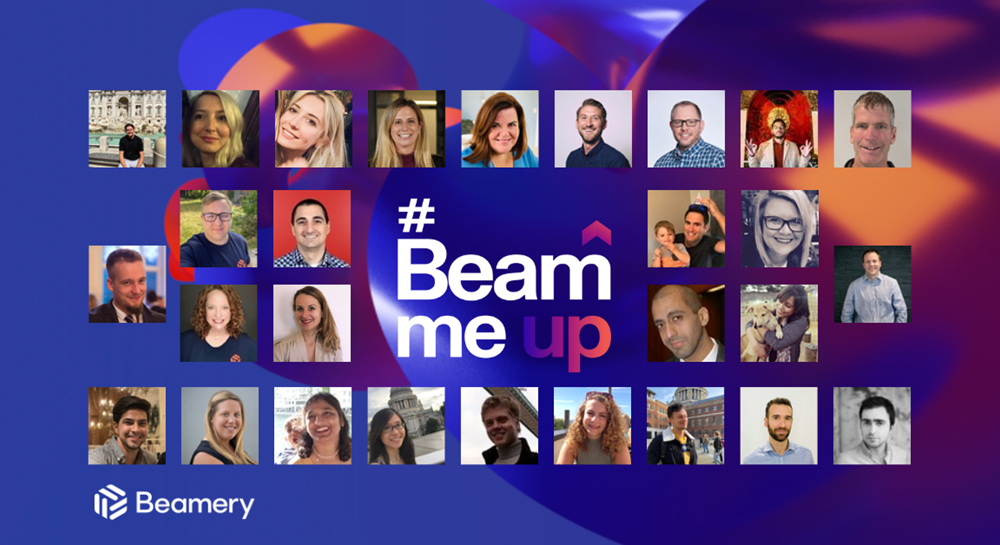 🏗 Building Beamery better through a revamped review process
At Beamery, we want to create a fair, scalable and equitable performance & development culture. We still have a lot of work to do, and in the spirit of defaulting to transparency, we wanted to share how we're changing the way we do things, to build Beamery better.  
This year, we shook up the way we managed our bi-annual review process. After taking our Fair HQ's assessment in 2021 (a platform providing evidence-based insights that drive more diverse, inclusive and equitable companies), we could see that our scores for an equitable performance and promotions process were below the standard we expected.
Thanks to feedback from our last review cycle, we've increased transparency, and fairness in how promotions and compensation increases were discussed and decided.
Things that changed in the Q1 2022 process
We met managers where they were. We adapted the performance review process that sat in our internal progression tool and expanded the tools that managers could use, giving them added flexibility to allow them to complete the performance review process in the way that worked best for their teams - this included easy-to-use and easy-to-access templates.

We delivered dedicated leader training. Both within Beamery's monthly manager meeting (Leader Insights) and independent deep-dive sessions, every manager was equipped with the knowledge they needed to understand expectations and how the review process would run. 

We brought leaders into the compensation conversation. Leaders were given a greater level of access to understand how performance and compensation were interlinked - and we made salary conversations a default part of the process, rather than an ask that managers had to speak up for with little visibility. 

We coached leaders to think about development. Our People Partners worked closely with every leader to not just think about performance and compensation, but development too. We made clear the link between having great performance conversations and setting our people up for growth - a key goal and priority for Beamery as a business.

We launched our first performance and compensation review committee and started with why. Team leaders and their People Partners were given dedicated time to meet with our leadership team, presenting the what and why when it came to compensation, performance and promotions for their team. This meant that decisions were unable to be approved in isolation, or pushed through based on a leader's proximity to a particular person in the leadership team. 
The impact of these changes
For the first time, 100% of our people have development goals. 
For the first time, 100% of our leaders used a structured performance template.
100% of eligible employees had 1:1 conversations with their manager within the outlined timeframe, as well as a further 80 conversations with employees who had been at Beamery for at least six months. 
28 promotions (that's 16% of those eligible) 40% of promotions were from minority genders (13 male/11 female)
85 salary increases (that's 50% of those eligible)
🎉 Congratulations to all our promoted Beam Teamers! 🎉 
People Team:
Elliot Fernley, Junior Recruiter, has been promoted to Professional Recruiter
Laura Jackson, Culture and Wellbeing Manager, has been promoted to Onboarding Manager
Donna Haxa, People Operations Manager, has been promoted to Senior People Services Manager and People Partner
Legal:
Nicolette Nowak, Senior Legal Counsel, has been promoted to Associate General Counsel
Marketing:
Allyson Holbrook, Head of Marketing, USA has been promoted to Vice President, Corporate Marketing
Sam Macleod, Senior Digital Marketing Lead, has been promoted to Director, Digital Marketing
Sales:
Aaron Shurts, Sales Engineer, has been promoted to Sales Engineering Director
Neroshen Mohan, Account Development Representative, has been promoted to ADR Lead
Customer Success:
Matt Ludwa, Strategic Account Lead, has been promoted to Director, Customer Success (US)
Sean Wilkes, Senior Customer Success Manager, has been promoted to Principal Customer Success Manager
Tina Neale, Customer Success Manager, has been promoted to Senior Customer Success Manager
Steven Esposito, Senior Customer Success Manager, has been promoted to Principal Customer Success Manager
Mike Catapano, Senior Customer Success Manager, has been promoted to Principal Customer Success Manager
Product Support:
Haroon Chaudhry, Product Support Associate, has been promoted to Technical Support Engineer
Professional Services:
Laurel Hoffman, Solutions Delivery Consultant, has been promoted to Senior Solutions Delivery Consultant
Rachel Johnston, Manager, Professional Services, has been promoted to Director, Professional Services
Engineering:
Michael Hughes, Senior SWE Backend Engineer, has been promoted to Technical Lead
Kaan Karakeben, Data Scientist, has been promoted to Senior Edge Engineer
Kacper Piskorski, Knowledge Engineer, has been promoted to Lead Edge Engineer
Thomas Kostrzewski, Software Engineer I, has been promoted to Software Engineer II
Harshada Shimpi, QA Engineer, has been promoted to Senior QA Engineer I
Yusyuan Cheng, QA Engineer, has been promoted to Senior QA Engineer I
Martha-Elena Ciobaniuc, Software Engineer, has been promoted to Senior Software Engineer I
Anjali Sharma, Senior Software Engineer, has been promoted to Technical Lead
Reza Nehzati, Software Engineer, has been promoted to Senior Software Engineer I
Slava Treskovskii, Senior Software Engineer I, has been promoted to Senior Software Engineer II
Lyndsey Scott, Software Engineer, has been promoted to Senior Software Engineer I
Leadership:
Xavier Langlois, General Counsel, has been promoted to Chief Legal and Impact Officer