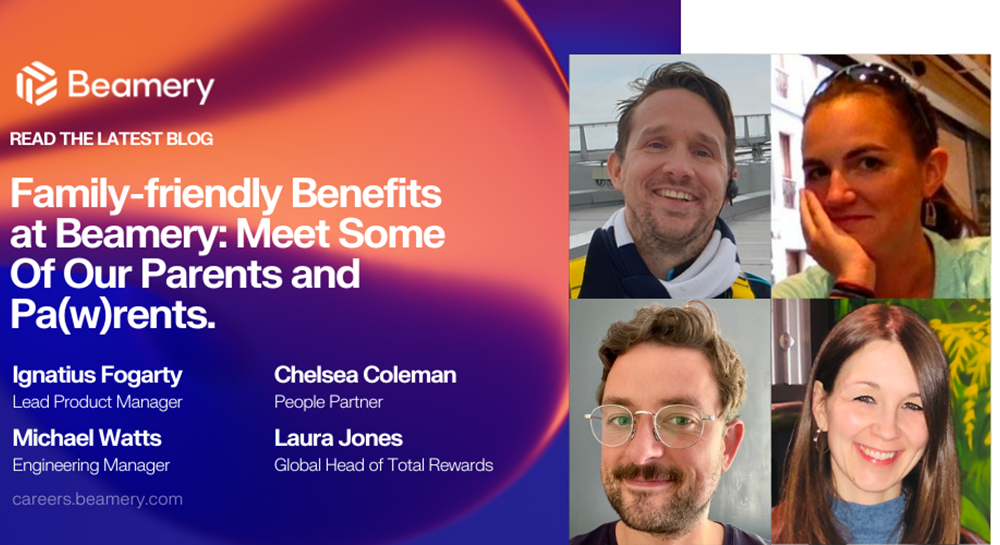 As part of a wider revamp of our employee benefits package, we've introduced a whole host of new perks geared towards our #BeamTeam parents (and "pa(w)rents" 🐾).
We pride ourselves on being a family-friendly company, so it's crucial that our benefits reflect this. We spoke to some of our team about what it's like being working parents & pa(w)rents at Beamery and how it impacts them and their families. 🤓 
You'll hear from four members of the #BeamTeam about the challenges of maintaining a healthy work/life balance, and how Beamery has created an environment that supports this, as well as tips for expecting parents and those returning to work after maternity or paternity leave. 😍  
Starting in March 2023, in addition to our flexible and hybrid ways of working, Beamery employees will receive: 
🐥 6 months full pay for primary caregivers (parental, surrogacy & adoption)
🐥 6 weeks full pay for secondary caregivers (parental, surrogacy & adoption)
This is on top of our existing wellbeing and family-friendly benefits: 
🏝 Unlimited Holidays (26 days minimum) + Bank/Federal Holidays
📅 First Friday of every month off
⛷ Company closure between Christmas and the New Year
2️⃣ After 2 years, take a 1-month sabbatical (with full pay) 
4️⃣ After 4 years, take a 2-month sabbatical (with full pay)
🌍 Beamery Explore: Work from another country for up to 25 days each year
🌱 Monthly focused Personal Development Day
🏥 Private health insurance for you and your family 
⏰ Time off for prenatal appointments
🐶 Pet-friendly offices 
🍕 Weekly lunches in the office 
📈 Stock options
Please tell us about your dependents… 
🚀  Chelsea Coleman – People Partner We have an 18 year old called Mya who is currently taking an academic break before college. She is an absolute songbird and participated competitively in choir throughout middle and high school. April is 15 years old and is in their sophomore year of high school and focuses mostly on Engineering, Art, and Tech Theater. Jiji, who is 3 years old, is a cat with the personality of a puppy. He is LOUD and will talk to whoever is nearby. Beemo is another 3 year old cat, who runs the house. She likes playing video games on the iPad, watching for yard intruders, and riding around on our shoulders.
⚡️ Ignatius Fogarty – Lead Product Manager Audrey Fogarty is 2 years old. Her hobbies include watching Duggee and Bluey, reading the Tiger Who Came To Tea, dancing, softplay, swimming, drawing, and eating anything and everything.
🧠 Laura Jones – Global Head of Total Rewards Jensen is my one year old son. And Ziggy (the lunatic Spaniel), is four.
💡 Michael Watts, Engineering Manager I have a 3 year old daughter called Wolfie – her current likes are pancakes, Lego, watercolour painting and performing in a band she made up called 'Hot Squash', which mostly involves singing/shouting in a mix of English and Japanese with some dance moves.
We also have a 5 year old Beagle/Cavalier cross called Mackerel who is mainly interested in food and chasing squirrels.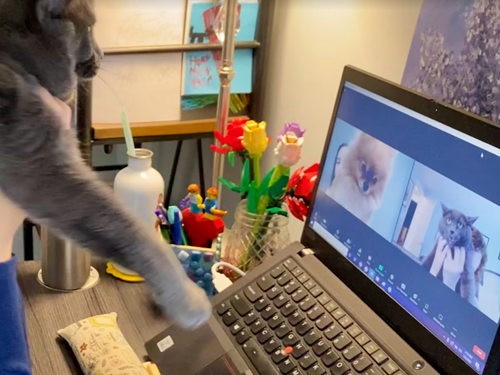 What are some of the challenges that working parents/pa(w)rents face? 
🚀  Chelsea: For us the biggest challenge is volume. My husband and I both work from home – thankfully at opposite ends of the house. The kitchen and living room sit between us as neutral, quiet zones during work hours. It's really hard to convince Jiji, Mya, and April that this is the case, so we have a lot of bursts of laughter, shouting, and meows throughout the workday, especially on school holidays. Beemo and Jiji are good cats. The biggest issue is that they try to get between us and whatever we are doing, so keyboard covers are essential when we are away from our desks. 
⚡️ Ignatius: Children can be unpredictable! If Audrey is ever not well and I get a call from the nursery saying that she needs to be picked up early, I know my manager and colleagues will be supportive if I need to drop what I am doing. If I'm working at home and Audrey happens to wander into the room and Zoom in, then everyone will want to say hello – she has met everyone on my team. 
🧠 Laura: I have to say, I thought going back to work when Jensen was four months old was tough. How could I be so mistaken? The older he gets (he is now 21 months old) the crazier it is. Especially as he is a complete and utter livewire! One bit of advice from me would be this: If your child has gotten your phone, make sure you check what they are doing!
One afternoon, Jensen decided (unbeknownst to me), to send Slack messages and voice notes to both colleagues & execs. I didn't know until I started getting very confused Slack responses back on the laptop I was working on. I could have died. Luckily they all saw the funny side!
💡 Michael: I've interviewed at companies before where none of the workforce had children; this seems particularly common in the startup world. At one interview I was asked what I was doing that evening and when I replied, "picking my daughter up from nursery, feeding her dinner and collapsing asleep" this was met with what I can only describe as quiet disapproval. It felt like candidates were being judged on whether they crammed their free time with exciting hobbies and super cool personal coding projects. At this point my daughter was about a year old and free time just wasn't a thing for me.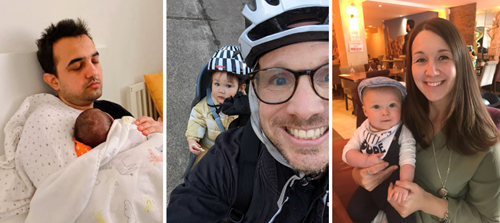 How does Beamery support you as a parent/pa(w)rent to overcome these challenges to balance home and work? 
🚀 Chelsea: Working at Beamery is the best WFH situation in my career to date. I specifically appreciate that I can get up early and start my days before the rest of the house is awake. This quiet time helps with the different time zones and being able to be more flexible with the activities going on on the other side of my office door.
It's important to me to feed my family good food, and previous long hours and commutes made this hard. Now I can start a pressure cooker or casserole in 20 minutes over lunch, and have a healthy dinner ready for everyone without having to spend my whole evening in the kitchen. It's also really nice being around the animals all day. In HR, the deeply rewarding side of the job is often paired with difficult situations. It's nice to have a cat friend to sit with and decompress so I can recharge.
Beamery also supports a culture of trust and accountability. My chain of command, all the way up to our CEO, demonstrates that they trust me to manage my time and workload responsibly with open communication. This means that I can schedule appointments without worrying about an unsupportive culture. This also gives me freedom from the distraction of 'looking busy', which is really the biggest time drain. 
⚡️ Ignatius: Beamery's Friday Unplugged is a day that I dedicate to spending time with Audrey. It gives me the opportunity to take her to soft play, go swimming, or go on little adventures with her. It is great, because as a working parent you can sometimes feel excluded from all the weekday activities that are around for children.
We have a Slack channel as well where parents will share tips on parenting but also share updates of how their little ones are growing.  
At Beamery, being a parent and having to deal with parental challenges is culturally accepted – and you are not made to feel like you are a burden when you are a working parent.
🧠 Laura: Jensen has been part of the #BeamTeam since the interview process! He was four months old when I interviewed at Beamery and decided he wanted to make a last minute appearance during my offer call (albeit mostly just to cry at the Leadership team). I thought that would have been it for me then and there! But I was so wrong. There I was, a new mum trying to soothe a crying baby, all whilst discussing my offer particulars. What I was told (whilst I was frantically panicking) has stuck with me ever since:
"That will be the last time you ever apologize for having a baby". All my anxiety of being a new working mum completely dissipated in that moment. If that doesn't sum up the ethos and support for working parents at Beamery, I don't know what does.
💡 Michael: Flexible working means I'm always able to share the family responsibilities with my partner, and do my fair share of the nursery runs and dog walks. As a parent, you have to be ready to deal with the unexpected, and I have always felt able to dash out and deal with things when the call from nursery comes in to say there's been a head injury or a poo explosion. Our unlimited holiday policy means I can take time off for life's unexpected and stressful twists and turns without having to keep holiday days in reserve. And having the first Friday of every month off means I actually have some free time, which I can use for my own wellbeing.
What advice would you give to anyone about to become a working parent/pa(w)rent? 
🚀 Chelsea: Don't be afraid to let people know that you have multiple things you both care about and care for in your life. An employer who needs to be your one and only priority might not be an employer you want to give your career to. If you can find a company that appreciates how much you care about excelling at work, and your kids, and your pets, and your annual trip to the sea, that's a job worth chasing.
⚡️ Ignatius: Life is going to change! It is going to be a rollercoaster ride but one that is also amazing. Time flies by so quickly, so make sure you enjoy those early moments and also look after yourself and each other.
🧠 Laura: Embrace and love every moment: it all changes in the blink of an eye.
💡 Michael: Once you've got that responsibility to take care of, make sure you ask the right questions in interviews – in my last job I made the assumption that a dog-friendly office was a given, only to find later that dogs were banned from the office. I couldn't hang out with my furry pal at work and I had to shell out for doggy daycare on a regular basis.

What advice would you give to companies who are keen to support soon-to-be parents/pa(w)rents? 
🚀  Chelsea: We're seeing a shift towards more accommodating work environments, and some holdouts who are trying to protect their right to ask people to work in outdated ways. The data shows that ignoring diversity leaves money and growth opportunities on the table for businesses. We can apply this learning to family shape easily – the more adaptable you are as an employer, the more diverse teams you can hire. This clears the noise in a lot of ways and can help eliminate obstacles you may be encountering when you are trying to get the best people into your company.
⚡️ Ignatius: Have a benefits package that is supportive and accepting of working parents. I have had male colleagues take extended paternity leave and they have absolutely loved having the opportunity to spend that time with their child. Be culturally sympathetic and supportive of your working parents. There might be times when they are not firing at 100% (we have all had those nights where sleep just isn't happening), but demonstrating to working parents that they are not a burden, that this is all okay, will contribute to a great company culture.  
🧠 Laura: To always support in every way possible. It's hard work juggling everything all at once, so the ability to have flexibility as a working parent is key.
💡 Michael: The demands on parents have always been high, but in the past couple of years I've found that people are even more likely to be dealing with the immense pressure of being new parents. Being flexible with working hours, and allowing parents to build their workday around their family needs (rather than the other way around), is so important, and enables them to feel they can bring their best to work and parenting. It's easy to feel like you're failing at both if you can't set healthy boundaries between them.
What advice would you give to people coming back from parental/adoption/surrogate leave?
🚀 Chelsea: The best thing you can do to successfully come back from any leave is to set up a cover and return plan well before your absence. Coordinate with your manager, communicate with your coworkers and reporting lines, and lean into any help and support being offered from HR. Not only does this set expectations, but it sets you up for success on both sides of your absence. Explore what options there are to start back part time and ramp in. If there are options to work more flexibly, or if you can have modified work hours, take advantage of that structure, especially at the beginning of your return.
I also recommend scheduling a chat with your manager and HR the week before you return, so that any adjustments can be made before you are officially back at your desk.
If you're comfortable, introduce your new family members by showing pictures or sharing stories, and letting your team know where your energy has been while you were away.
⚡️ Ignatius: As a dad, going back to work after two weeks of paternity leave, I have learned that you can achieve a lot on not much sleep! (Here at Beamery the fact we have just introduced six weeks for secondary caregivers is awesome) 
My wife's advice is: Ease yourself back in, and be sympathetic to yourself as you look to pick work back up after an extended time out. 
🧠 Laura: Communicate openly, always. Being a parent at Beamery is celebrated – not frowned upon. Situations you can find yourself in with little ones aren't always ideal, and a lot of the time are unforeseen. It will take time to find what the swing of things will look like for you, coming back as a new working parent. But your manager and coworkers are all here to support you as you transition back into working life!
💡 Michael: Agree on clear expectations with your manager for your return to work so you're not stressing yourself out with catching up on everything you've missed and feeling like you need to do everything you did before (but now on 2 hours of sleep). Be aware of your capacity and your energy levels: hopefully you have a manager you can communicate about this openly with who will then respond accordingly, so you can build back up to your full capacity and avoid heading straight for burnout.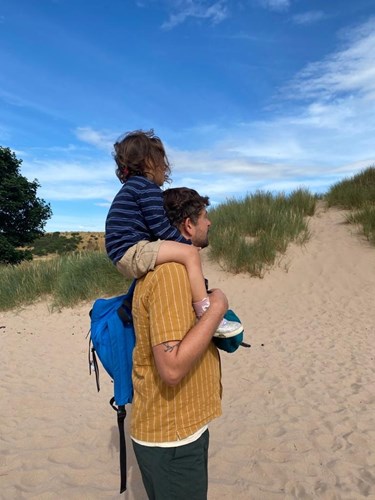 A massive thank you to all of the #BeamTeam who spoke to us about such an important topic! Their comments highlight just a few ways we're making wellbeing a priority here at Beamery – you can find out more about our complete benefits offering here.
You can check out our careers page for our current openings, but if there's not a role for you there right now then join our Talent Community instead!