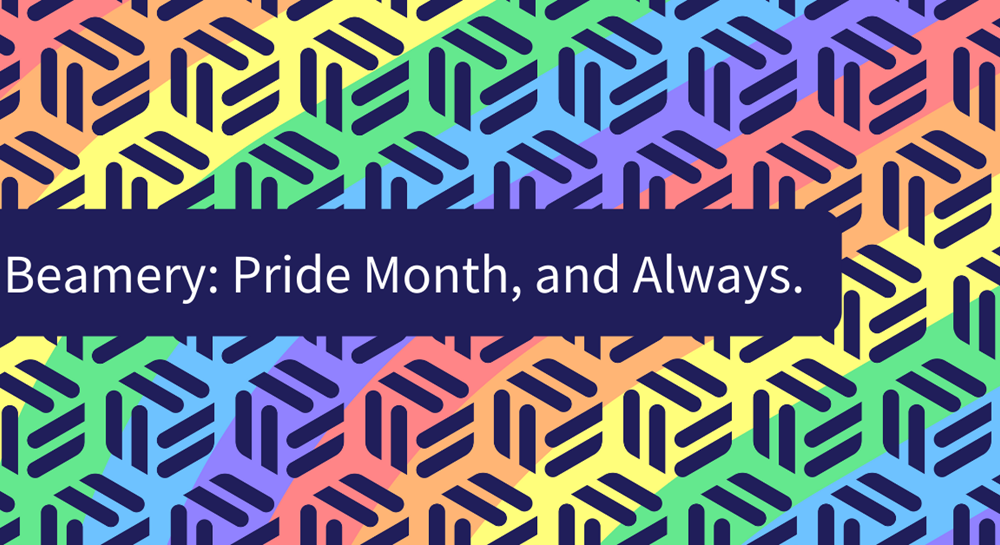 This month at Beamery we've asked our colleagues to consider their language and update their pronouns.
Interpersonal inclusion is generally what we think of when we think about inclusion in the workplace—it's how employees interact, connect, and communicate with each other.
A whopping 59% of non-LGBTQ employees believe it is "unprofessional" to discuss sexual orientation or gender identity in the workplace, leaving LGBTQ+ employees with the stressor of having to carefully navigate these conversations that straight or cisgender folks breeze through without a second thought.
Unsurprisingly, LGBTQ+ employees can feel wary about even mentioning a same-gender or nonbinary partner.
With this in mind, during this year's Pride month, we wanted to shine a spotlight on pronoun inclusivity, because connecting with team members about topics outside of work is essential to building peer relationships.
We dug deeper to understand more about some conversation signals that can help our LGBTQ+ team members feel safe talking about their personal lives:
Not making heteronormative assumptions (i.e. if a woman mentions they're married, don't reference their "husband" if you're not actually certain about their sexuality or gender!)
Using neutral terms like partner, significant other, or spouse
Avoiding a binary assumption of gender (i.e. instead of saying "Ladies and gentleman," use neutral language like, "Hi, everyone.")
Communicate and normalise the usage of gender pronouns
The information above was taken from Bonusly's blog 3 Actionable Ways to Support Your LGBTQ+ Employees During Pride Month and Beyond
So, what have we been up to?
Our colleagues Amy Bennett and Cailín Smith ran an internal discussion on the importance of pronouns. It was so useful, we put together some highlights for you below. Watch here:
Taking action
We've been working on our pronoun inclusivity, so that it is really pride month, and always. We've made pronouns visible across #BeamTeam tools, so now, when it comes to the platforms we use each day, our team has a way to share their pronouns upfront. As a result, over 40% of our team have now updated their pronouns across our HRIS system, Slack, Zoom and Email Signatures. This means that inline with our value 'Act with Kindness' we can continue to show each other we care by using the correct pronouns, whilst minimising the need for awkward conversation starters or binary assumptions.
Pride Month, and Beyond
We're responsible for the engagement and wellbeing of all employees all year round, and that includes their safety, security, and peace of mind. That's why we're continually auditing our policies and support.
Auditing our policies:
We offer benefits to domestic partners and civil unions
We have a comprehensive anti-harassment & anti-bulling policy
We offer parental leave
We do not have a dress code
We offer healthcare which provides Mental Health support. In the UK, we opted for an advance level of mental health cover
We offer Sequoia Health Care for our US team members. This Blog post explains how they are committed to Diversity, Equity and Inclusion. Here are some additional useful links to understand more about their policies:
This is only an example of some of our benefits as of today. To understand all the benefits Beamery offers, visit our what we offer page or talk to a recruiter during your interview and they'll be able to answer any questions you may have.
Lastly we'd love to leave you with some of our recommended books and movies to watch to educate yourself even more on Pride and the LGBTQ+ community. 
📘Recommended reading :
Tomorrow Will Be Different by Sarah McBride

Sister Outsider by Audre Lorde

The Prophets by Robert Jones, Jr.

Detransition, Baby by Torrey Peters

Fun Home: A Family Tragicomic by Alison Bechdel
👀Recommended watching :
Paris is Burning (1990)

Brokeback Mountain (2005)

Milk (2008)

Blue is the Warmest Color (2013)

52 Tuesdays (2013)

Carol (2015)

Moonlight (2017)

Love, Simon (2018)

Portrait of a Lady on Fire (2019)
One of the most valuable things you can do is to educate yourself about the things that LGBTQ+ people experience. Gaining a better understanding of these experiences helps you be a better ally, community member, colleague, and human!