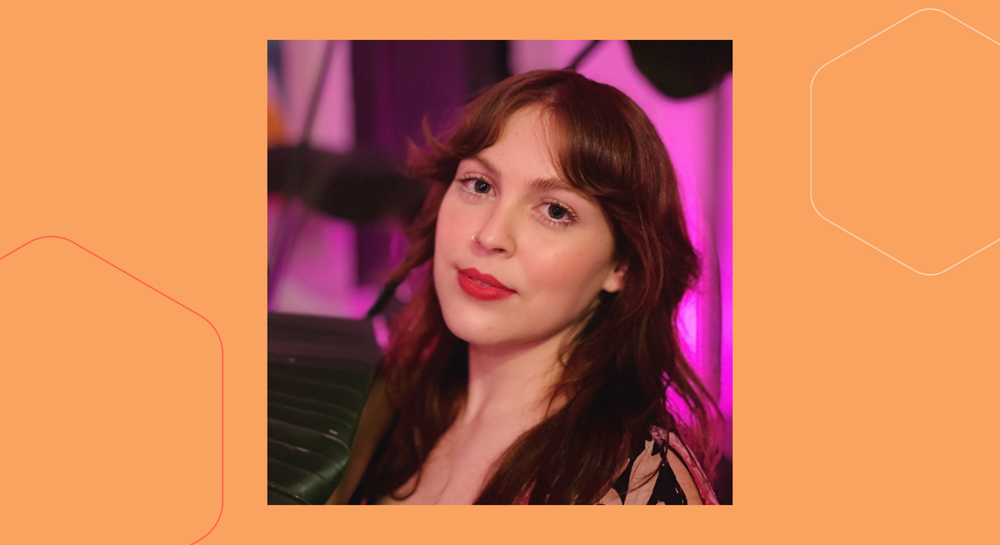 Last year, Em Schwartz, Customer Success Manager at Beamery, led a workshop at our first ever North American offsite about Design Thinking. It was one of our top most successfully rated workshops of the entire offsite. The topic was about how Design Thinking can be used to create a more inclusive and remote environment.  The way Em took the idea from just a concept to a full workshop after an inspiring conversation with our CEO, was an amazing example of one of values: Own the change you seek. We loved the workshop so much, we wanted to bring some of the key themes to you in this interview with Em. 
Q&A with Em Schwartz
Tell me the story about when you and how Design Thinking became important to you
I joined Beamery as a Customer Success Manager in October 2021. I was looking for a company that really fit with my values: one that encouraged autonomous innovation, one that was solving human centered problems and one that put clients and users at the center of everything they do. 
Over the last year I've become more interested in User Experience Research and human centered design. My partner who is a Service Designer and Systems Thinking Designer introduced these topics to me as a framework for identifying and working through wicked problems.
After a new employee Q&A session with our CEO Abakar, I kept thinking about moments in which we can spark cross departmental collaboration and discussion here at Beamery. I approached Abakar with a potential way in which we could use Design Thinking as a framework to help identify the right problems and ideate on potential solutions for encouraging cross departmental collaboration and a more engaged remote work environment. Abakar was extremely encouraging and pointed me in the direction of our culture and development team to help flesh out the application of this idea. We had a North America offsite coming up and we wanted to use that gathering as a trial run for a Design Thinking workshop that focused on ways in which we could create a more engaged, inclusive and meaningful remote working environment. 
What were the main takeaways of the workshop
The workshop I conducted on Design Thinking took place at our North America offsite in December 2021. This gathering brought over 70 employees in person and over 30 employees remotely from various parts of the United States and the UK to sunny Palm Beach Florida to get to know each other better, understand the vision for Beamery in North America, and share new ways and new processes of accomplishing the very best at Beamery. 
The Design Thinking workshop focused on ways to cultivate a more engaging and inclusive remote working environment by first setting out to identify what problems we were experiencing being a fully remote and geographically diverse team. 
Some problems included the struggles with juggling a busy schedule and finding time to engage with our peers, and other problems included how to set proper work/life boundaries in an environment where those two worlds are so often intermeshed. 
The main goals of our workshop in its first iteration were primarily to focus on empathizing with each other and understanding each other's diverse perspectives about our experiences working remotely. In doing so, we used a couple of Design Thinking methodologies that focused on user interviews and a pain gain map exercise that allowed us to map out moments of pain and moments of enjoyment and fulfillment that our participants identified in their interviews about working remotely. 
After this Empathize Phase, we focused on defining key problems that we took away from those interview sessions with our fellow participants. 
In Design Thinking and user experience research, it is imperative that we identify the right problem and that we don't move towards solutioning before we give proper time and thought to problem evaluation. 
In this workshop, we identified some problems we were experiencing, such as lacking moments of collaboration and connection with our colleagues, having clear expectations of performance in a remote world, establishing trust with teammates we weren't seeing in person on a regular basis, and incorporating all learning styles into our onboarding and continual education programs. 
It was absolutely amazing to watch dozens of people be their most vulnerable and transparent selves with their colleagues who they had not had much exposure to previously. It was wonderful to hear experiences from these individuals about how much they loved this session and how it really created an environment of mutual respect and connection. 
What is Design Thinking and how can people use it in your own life/business?
Design Thinking is a nonlinear, human centered approach to problem-solving that allows us to focus on human experiences to inform solutioning and decision making. Design Thinking uses empathy in order to truly understand the experiences of others and uses those insights to find ways in which we can help alleviate moments of friction in order to create a more user focused and human focused solution. 
Design Thinking is composed of five different stages: Empathize, Define, Ideate, Prototype and Test. These five stages do not occur one after the other but are often revisited throughout various parts of the design journey in order to discover more insights about our end-user or participants' experiences. 
In a professional work environment, Design Thinking could be used in order to solve complex problems in which a solution is not extremely clear. This could involve engaging with end-users to understand pain points or friction moments to identify the right problems they are experiencing that we can begin ideating on to find potential solutions. 
In a non-professional environment, Design Thinking could be applied to understanding a problem impacting relationships, help someone find out what their true passion is, or help work through any situation that presents a wicked problem. 
I always joke around with my partner, but if you watch Kitchen Nightmares starring the amazing Gordon Ramsay you can see Design Thinking in action. Gordon Ramsay uses empathy in order to understand the restaurant owners' experiences. He uses empathy sessions in interviews to define what problems they're facing, often going back to the restaurant owners once he has identified problem areas to get their own perspective. He then starts to ideate on potential ways to help alleviate the friction this problem is creating, and then constantly prototypes and tests potential solutions to help resolve key problems the restaurant owners are facing. Gordon Ramsay is constantly jumping back to various stages within the Design Thinking framework and his solutions on Kitchen Nightmares are often nonlinear and involve a great amount of testing and retesting. It's mostly in jest that I make this comparison, but it's a great way to start thinking about Design Thinking's application in a real world context. If I were to write a book on Design Thinking, it would absolutely be the application of Design Thinking Methodologies in Kitchen Nightmares so stay tuned…. coming to a bookstore near you! 
As you're in customer success, how can Design Thinking lead to customer success?
Customer success to me really revolves around the ability to empathize with your points of contact and your end users.This is done by identifying pain points or frustrations, and strategizing with your clients in order to come up with a solution that not only identifies the problems they are facing, but also cement the relationship as one built on trust and mutual understanding. 
I use components of the Design Thinking methodologies in all of my client interactions and relationships. I focus on empathizing with their end users' experiences to understand from their perspective what is working well and what is limiting their success. This also informs the ability to define what the true problems are, and not what the perceived problems are that are keeping their end-users from being as successful as possible. From there, I often ideate on ways in which I can improve either the current process, or in Beamery's case, the way in which the platform is being adopted. This involves a ton of different prototyping of potential solutions that could be readoption training series, or customized process reevaluation sessions or even a complete overhaul of the strategy behind how we are positioning recruitment at a company. You can see in this example I'm moving fluidly through and around the stages of Design Thinking in order to help identify the right problem and implement potential solutions over time. 
Customer success and user experience research is extremely intertwined and makes it a perfect environment to implement and utilize Design Thinking and Human Centered Design strategies and principles.. 
More about Em Schwartz
My name is Em Schwartz, my pronouns are they/them, and I live in sunny Austin, TX. I am originally from Fort Lauderdale, Florida so I can't ever really escape the heat! I have acted and sang most of my life, but really only perform in the shower now. I think my experiences with acting really allowed me to embrace empathy as the strongest tool to being a well-rounded, thoughtful person. 
I have been in customer success and customer relations throughout my entire career. What I love so much about working with clients is identifying moments of tension or pain points and helping resolve those through a strategic perspective. At the core I love people and want them to live their best lives with as little unneeded friction as possible.
I am extremely passionate about diversity, equity and inclusion and identifying and implementing ways in which we can create a more equitable and accepting environment both in a professional setting and on a societal scale. 
I've always been the kind of person who enjoys solving problems, finding cracks within a current system or process and helping to make that system or process stronger than ever before! For me beauty lies in improving the way in which we do things to allow it to benefit everyone, not just those that we think it will benefit. 
I believe if I can make a difference in one person's life, even if that's a fleeting moment, I have accomplished something beautiful and meaningful.