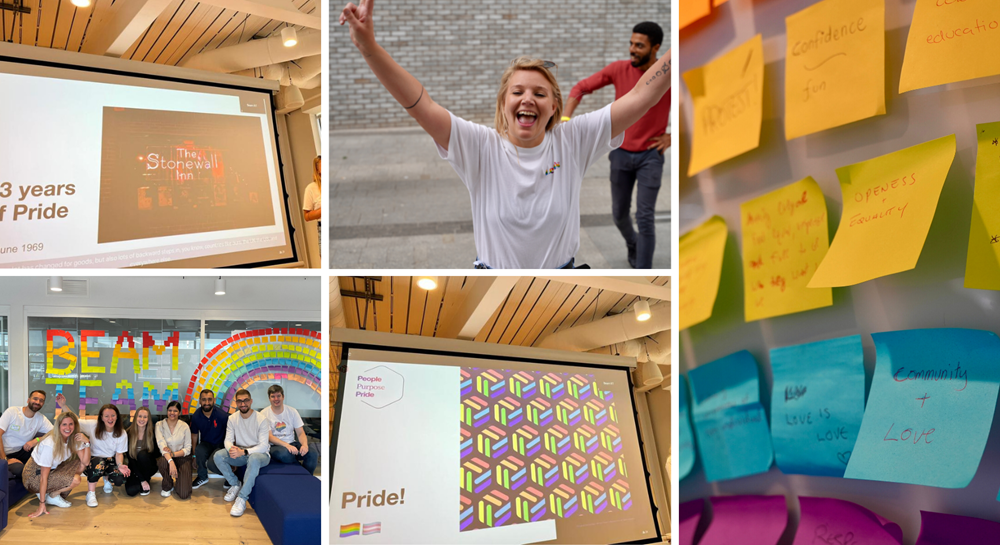 This month at Beamery we're talking about and celebrating Pride Month. We are hesitant to use the word celebrating, because as most people know, Pride is actually a protest. This has been one of many topics of conversation we've had over the last few weeks, and will continue to have as we educate, share experiences and celebrate our LGBTQ+ community.
With a dedicated Impact team at Beamery, we continuously strive to build a workspace where it's safe to not only talk about absolutely anything, but where we're encouraged to do so. In recent weeks, we hosted an internal podcast for IDAHOBIT (International Day Against Homophobia, Biphobia, Transphobia) where team members shared their experiences (good and bad), Pride moments and talked about what Pride means to each of us.
We also came together as a company for two days in our London and Austin hubs to focus on People, Purpose and Pride - including Pride with purpose to reflect our company's monthly theme, as well as reflect the importance of inclusion for the summit and us as a company.
Pride in London
In London, Amy Bennett (she/her), Digital Marketing Manager, and Will Fox (he/him), Internal Communications Manager, hosted a session with over 100 colleagues. 
As a group, we discussed what Pride means - to our LGBTQIA+ colleagues and allies. From family, inclusivity and love, to awareness and protest, Pride means many things too many people. 
And as we look back at the history of Pride and where we are today, there's still so much more we need to do across the world. Sobering stats that were shared include:
11 countries still impose the death penalty
69 countries criminalize LGBTQIA+ people
Only 14 countries have some sort of national ban on conversion therapy
Sadly, some of our friends and colleagues have suffered as a result of homophobia, and many others know people who have. We used this session as an opportunity to share experiences, raise awareness and provide ways that allies can step up, be counted and act with kindness.
Pride in Austin
In Austin, Em Schwartz (they/them) and Rachel Knight (she/her) were joined by over 100 colleagues from around North America in order to understand what pride means to us as individuals and to us as a collective. 
Rachel and Em shared their individual experiences in identifying as part of the LGBTQIA+ community and the importance of the respect of others when it comes to using people's pronouns and avoiding assumptions or generalizations.
We had all of our event attendees share what pride meant to them and educated folks on the history of pride and the importance of it to the LGBTQIA+ community. 
We also shared how to be a supportive ally and the importance of educating yourself in the efforts to understand the experiences of people in the LGBTQIA+. As well as the impact of using people's pronouns and creating an environment where we can correct others with care if the wrong pronouns are used in order to ensure that everybody feels supported, respected and encouraged in our company culture. 
We stressed that people do not have to be perfect in order to be a great ally, but they do have to try to make a conscious effort to learn and be supportive of their LGBTQIA+ colleagues, friends and family. The first step is empathy — to educate oneself and put forth an effort to understand what others experience.
What Does This Mean At Beamery?
So many people reading this blog will know that businesses often talk about inclusive practices, but that often this isn't followed with actions. While there's so much more that we'll be doing as a company over the coming weeks, months and years to continue to build on inclusivity, we're proud to say that Beamery is making some fundamental changes this month.
We're continuing our optional campaign to have pronouns (and pronunciation) appear in our automated email signatures
We're supporting the work that OutRight Action International (an LGBTQ+ organization) is doing for those affected by the Ukraine conflict through our Ukraine Fund
We're updating our policies and procedures to ensure we are using gender-neutral language
We're introducing a new policy that supports transgender, intersex and gender non-conforming colleagues, which include support around transition
We're launching our Impact Manifesto with our colleagues which sets out our ambitions over the coming months and years when it comes to our equality, diversity, but most importantly, inclusion. 
We're hosting internal events, such as podcasts and film screenings (the classic Pride film, Pride) to share awareness and stories. 
Authors of this article include:
Amy Bennett (she/her), Digital Marketing Manager
Will Fox (he/him), Internal Comms Manager
Em Schwartz (they/them), Customer Success Manager
Rachel Knight (she/her), Internal Enablement and Best Practices Manager