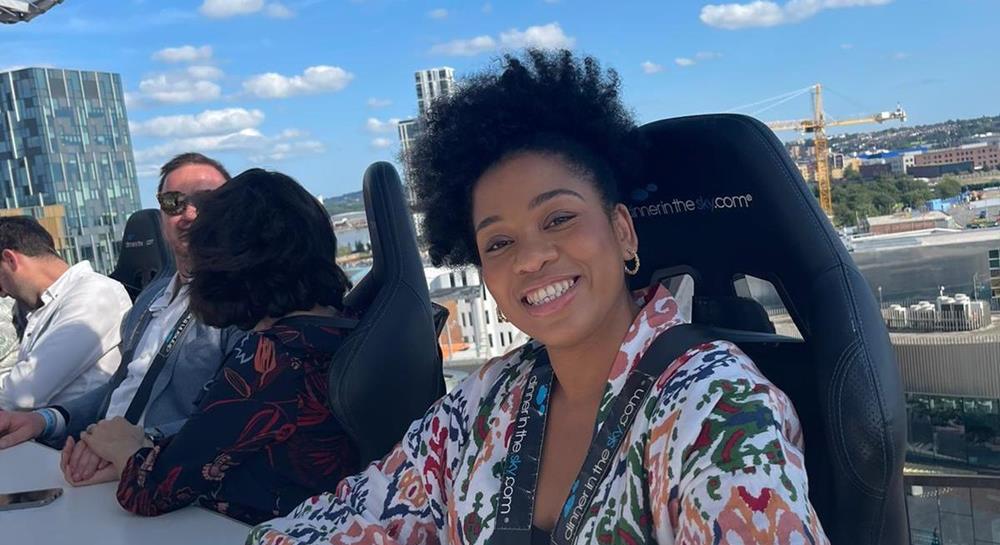 Last year Beamery had the privilege of having Bianca Moodie, Business Development Strategist for the people advisory practice of a Big Four consultancy firm, come speak to our people about the impact of misogynoir (a term which recognises the specific type of discrimination black women face). Bianca has also Co-Authored an article called "What HR managers need to know about misogynoir". We found Bianca's talk very insightful and helpful, so we decided to share her thoughts through the following interview we did with her! Enjoy!
Q&A with Bianca Moodie
What are you currently working on?
"Since my session with the team on Misogynoir, I have started a new role as a Business Development Strategist with a Big 4 organisation in their people-focused team; helping clients solve complex issues relating to their workforce. 
Before the session, I had just launched my own consultancy, Colour Me In Consulting, which takes an intersectional approach to creating DE&I policies and people programmes. In fact, this session was my first under this guise, which was incredibly exciting if not a little nerve-wracking."
What first drew you to explore diversity, equality and inclusion?
"My interest and passion in diversity, equity and inclusion is anchored in my lived experience as a cis-gendered Black British woman navigating the terrain of 21st century life.  
As with any discussion on diversity, it was so important to approach the subject matter (misogynoir) with sensitivity, respect and nuance. Whilst misogynoir accurately captures the intersection of misogyny and anti-Black racism that Black women face, it would be remiss if we did not acknowledge the varying degrees to which Black women can and do experience this type of discrimination.
I am a light skinned Black woman and as such benefit from colourism which discriminates against people with darker skin.
I was born in the UK to British parents so have not had the same interactions with the UK Home Office and the hostile environment that Black people born overseas and/or are undocumented have experienced.
I have a European name and whilst hiring managers might be shocked when I appear at an interview, my CV is not dismissed on the basis that they are unable to pronounce my name.
I have experienced and continue to experience upward social mobility so have a degree of financial freedom that enables choice - I can remove myself from situations and environments that do not serve me.
I am university educated so I am able to employ concepts and language that enable me to share my experiences in academic and professional settings. It means that I am understood.
All of this grants me access and a platform.
Whilst I can and have experienced misogynoir in various settings I acknowledge that I wield privileges that mean I do not experience it as acutely as someone who does not possess those same characteristics.
Organisations that truly seek to be diverse, equitable and inclusive need to focus on intersectionality and foster solutions and strategies that acknowledge and incorporate our differences and experiences."
About Misogynoir…
When you came to speak to the Beamery team, you helped us to dig deeper into intersectionality, specifically - misogynoir, the type of discrimination black women face. 
Where does the term come from?
"The term was coined in 2010 by Dr Moya Bailey. Moya was exploring the ways anti-Black and misogynistic representations shape broader ideas about Black women, particularly in visual culture and digital spaces in the modern era. 
It has its roots in intersectionality, a theory developed by Dr Kimberle Crenshaw to describe the way in which people's social identities can overlap. Crenshaw describes it as "a lens, a prism, for seeing the way in which various forms of inequality often operate together and exacerbate each other."
How do we know when misogynoir is occurring?
"If you can't replace the person being targeted with a woman of another race or someone of another gender, you know misogynoir is in play." Dr Moya Bailey 
Misogynoir is a very specific phenomenon experienced by Black women that operates at the intersection of sexism/misogyny and anti-Black racism."
What can workplaces do to overcome instances of misogynoir?
"Acknowledge its existence - when asking Black women to share their experiences in the workplace ensure that you have cultivated a space that is psychologically safe to do so. It will be uncomfortable but do not refute their experiences and do not centre yourself. 
Call out stereotypes/'banter' associated with Black women - 'banter' is rarely harmless and just because the person experiencing it doesn't call it out doesn't mean that they aren't being negatively impacted. They may feel unable to say something for fear of rocking the boat or being made to appear as the aggressor. 
Question your own beliefs. Why do you believe the things that you do and how do these beliefs impact your decision making ability when it comes to hiring, developing, promoting and disciplining talent in your business/team.
Create data driven approaches (Gender/Ethnicity Pay Gap Reporting) to address specific issues so that solutions are impactful and create positive material change.
Challenge the constructs, institutions, and systems that prioritise whiteness, patriarchy, and heteronormativity, placing Black women at the bottom of the social hierarchy."
Are there any resources you recommend for people to learn more?
"One of the things I love most about the field of DE&I and the resources available is that they are not purely academic. The most powerful stories I have come across are those that I can relate to and that feel familiar to me, shared in ways that are accessible and inclusive."
Here are some resources I have found particularly useful:
What next?
"My call to action would be don't wait to be perfect to start. Whilst language acquisition and the employment of key concepts and theories is important when discussing the various challenges and opportunities within DE&I, so is a willingness to learn. 
Lots of people want to change the world, start with your spheres of influence. You are much more likely to be able to create ripples amongst your nearest and dearest, and those ripples can become the waves of change we need. 
Please feel free to keep in touch!"
Connect with Bianca!