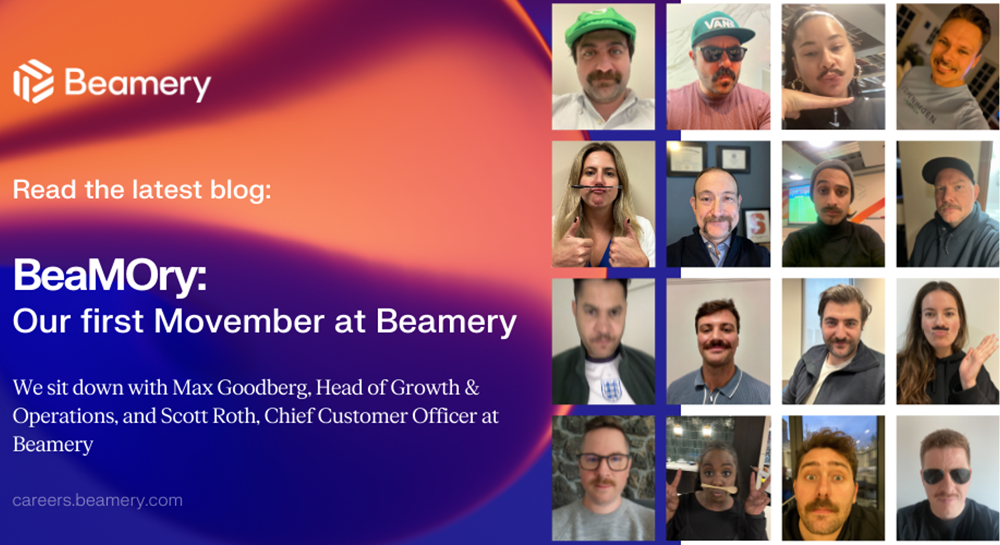 When Max Goodberg, our Head of Growth and Operations brought the idea of Movember to the Impact Team at Beamery in late October, a number of questions cropped up. We'd never done this before. How do we get folks to sign-up? What are the best resources we can provide to our teammates around men's health? How do we encourage donations and other fundraising efforts? And most importantly, who's going to grow out their 'stache for a whole month?
Cut to 30th November. The two floors of our HYLO headquarters are flooded with glorious moustaches of all shapes and sizes, and along with our fellow #BeamTeamers from all over the world, we've raised over $10,000! Earlier this week, we sat down with Max Goodberg and Scott Roth, our Chief Customer Officer – the MVPs of our campaign – to talk about all things Team BeaMOry.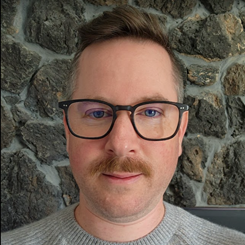 Max Goodberg, Head of Growth & Operations
Scott Roth, Chief Customer Officer
Movember is the leading charity changing the face of men's health. This year, Beamery decided to run a team campaign which involved growing out our moustaches and taking part in fitness challenges to raise funds and awareness for testicular and prostate cancer research and men's mental health.
--
💡The Beginnings
We wanted to understand what motivated Max to run a campaign at Beamery, and what we discovered was a superhero origin story. Turns out, Max has been a 'Mo Bro for 14 years running'. He noticed back then that there wasn't as much of a 'focus on wellbeing in the media as there is now', and seeing that men around him were struggling with mental health, prostate and testicular cancer, he wanted to kickstart that conversation.
'Men going to the doctor, having open and vulnerable conversations with each other about well-being – that's a really important part of life, and it seemed like something that was missing'.
He spoke to us about how he experienced great success and fulfilment in running campaigns both individually and with his company in the first few years, but also faced some hurdles along the way. "After the first four or five years, it lagged a little bit because it's difficult to maintain enthusiasm and donate to the same cause every year, even if it's a great cause. There's a lot of donor fatigue at some point - which is why I think the main message for Movember isn't around fundraising, but around raising awareness. That's what the movement's really speaking to." This year, he decided to enlist the support of the #beamteam. 
One of the first sign-ups to Team BeaMOry under the leadership of Max was Scott Roth. And unlike Max, this was Scott's first year doing Movember. When we asked Scott what inspired him, he mentioned a number of very personal and touching reasons that really reflected in his enthusiasm throughout the month.
"I've seen close friends and family struggle with prostate and colon cancer, and survive. I have been keeping myself in check too, going to the doctor's as recommended – it's just like changing the oil for the car. But this year specifically, I also battled some mental health stuff, I sought help, and I'm much better for it. So when these stories came alive in front of me, I decided it was time to do something about it, talk about it and help."
--
🥸 MO'ing Our Own Way
While each member of the team was inspired by stories in their own lives, coming together for a cause as universal as Movember kept us aligned and focused. We ran a number of company-wide games and challenges for an element of fun, hosted business psychologist and wellbeing consultant Lee Chambers for a talk on mental health in a masculine world and even auctioned off our moustache styles for some home-stretch-fundraising!
In our chat, we picked Scott's brain on his fundraising campaign to learn how he was able to raise a staggering $6000, so that anyone new to Movember can be inspired and maybe use the helpful tips when the next one rolls around. 
"I really had no expectations, you know. I started this thing off and like, 'A thousand bucks that seems like a pretty lofty number. Let's go for that.' and when we cracked three thousand, I went, Well, this is interesting. I'm not gonna change my goal again. I'm just gonna ask if we can go higher." 
Scott understood that although we were running as a corporate entity, the message had to stay personal. 'I posted about my moustache on LinkedIn and my friends said they'd pledge $100 dollars if I grew handlebars', he said, 'and that's what you're looking at now'! People came out 'from the woodwork', Scott said, people he 'hadn't spoken to in five-ten years, so I dropped them a text to say "Thank you for donating", which rekindled relationships and beautiful conversations that I wouldn't have had otherwise'. 
When Max enquired about the health and wellbeing of the men in his life, or 'even just express appreciation', he found they'd often 'immediately focus back on me - when you give care you get care'. Another recurring theme for him every year has been the potential to reach a new, wider audience – 'the message spreads out beyond the people that I was reaching out to, to their networks, and that's always a really fulfilling thing to see'.
--
🚀 Movember for a Business Leader
Being a business leader, especially one at a scale-up such as Beamery, requires you to be tenacious. In Scott's words, 'you're here because, at some level, you enjoy a challenge'. For Max, 'life in start-ups means enjoying the ambiguity, the uncertainty, the developing structure, the camaraderie, the team work'. However, both of them acknowledged that this does put a lot of stress on one's shoulders, and so Movember was an apt campaign to run in this leg of Beamery's journey. 
Max: 'We've almost doubled in a year. We have a lot of new teammates, and the one of the best things to pull together a team is to work on something that's worthy together as a group, and to have that not be something that we focus on in our professional lives, but rather something that's so important to many people's personal lives. I think it can be a really powerful thing'.
Scott: 'We're on a rocket ship, and a rocket launch is never smooth. The whole thing rattles, and no one can prepare you for something like that! The important thing is that - and here's what something like Movember reminds us - we're a family. That's our culture at Beamery; we take care of each other'.
And so the message was simple enough. If you're a business leader or just someone in a constantly evolving work environment with multiple moving parts, check in with yourself (regularly). Here are a few questions Max encourages you to ask yourself:
Are the seasons changing, and you really hate hot or cold weather, and that's really impacting your mindset? 
Are you being barraged by Slack messages and is the process too confusing?
Is there a demand on your time that you can't fulfil? How does that make you feel? 
How can you change your environment?
Are you getting enough off-screen time?
--
Check out our fun video of the #BeamTeam participating in Movember! 🥸
--
If you are at Beamery, make sure to utilise our holiday and flexible working policies, and make the most of your First Fridays Unplugged and Development Days. These are just a few ways we're making well-being a priority rather than an option at Beamery.
We'll be back next year for Movember 2023 - 'bigger, weirder, bolder'!
Oh, and guess what, we have great other benefits. And we're hiring! You can find all our open positions here!