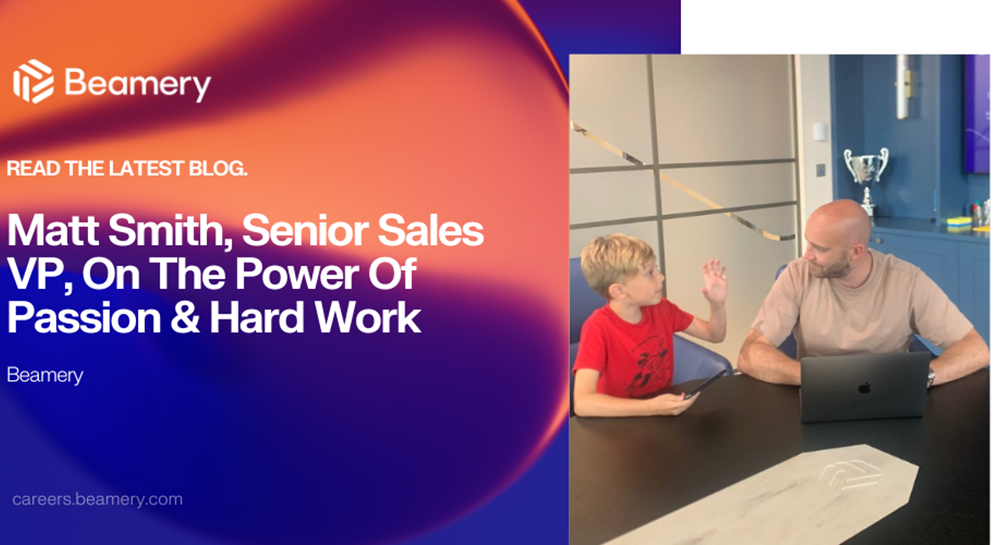 We sat down with Matt Smith, our Senior Vice President of Sales (America), to dive into his sales journey – from transitioning out of a corporate giant to the vibrant startup world – and to learn how culture, collaboration, and customer impact play pivotal roles in sales.
Find out below what it takes to thrive in a sales role, how Beamery's sales approach has evolved and what it means to be a part of this team. 
💡 What made you join Beamery?
A combination of the people, the culture and the product. I've spent a big part of my career within large corporations like SAP and I loved it. SAP was an incredible place to work. I wanted to turn my hand to building something at a smaller company, leveraging the experience I'd been fortunate enough to build. During my time at SAP, I was starting to see the value of companies like Beamery – how they could add something extra to a platform like SuccessFactors and how valuable that was to solving customer's problems. I knew some of the leadership team at Beamery already, and then when I started talking to the founders, I got a really good vibe – I could see it was an environment where I could put my SAP experience to good use. What I love here is that every deal that we make genuinely moves the needle, you can really see the impact you're making at Beamery and for our customers. 
🌟 What's the culture like within the team?
Culture is something that isn't built overnight, it's everyone's responsibility to build equally, it's an easy thing to lose. We're a relatively new sales team, with people who have come from big and small companies –  we have people who are dedicated and genuinely care. We strive to build a team that is supportive and collaborative, and I believe we've got the right people with the right DNA for that. In three words our team is ambitious, honest and empowered.

🧠 What does it take to be successful in a sales role here?
It takes passion, work ethic, accountability, and integrity. We can teach you the product but we can't teach work ethic. My dad said to me, that the harder you work, the luckier you get – and it's true. We need people who want to do the right thing by their customers, but also their colleagues – helping out when you can, rolling your sleeves up and getting stuck in. What I've enjoyed about my job is actually putting that process in place, and helping people to level up and do those things. 
🌱 What are you like as a manager?
I'm a second time manager, so I don't know what I don't know. I don't think there's anything wrong with showing vulnerability, so I've always asked for a lot of feedback from my team to understand what's working and what's not. There's nothing wrong with making mistakes but the key is to learn from them. I would say I try to lead by being supportive, collaborative and having trust in my team. 
Every day brings a new opportunity for me to learn and develop – taking active coaching from people around me, and reading a lot about different management methodologies. It's important that when we hire people, we give them the opportunity to develop and show their potential. I want to provide structure, whilst giving my team the freedom and empowerment to take ownership of their progression.

🌎 How has our sales approach evolved since you joined?
This year we introduced new sales enablement training which is incredibly valuable. There is a keen focus on the completion of this and equally its success in adoption/utilization. One of the biggest changes that we've implemented is one of reflection. As an organization, we look closely at why we win, why we lose, and how we can do better. And this isn't limited to sales, but all functions. We analyze deals cross-functionally (C-suite, sales, marketing, pre-sales, product development) to understand how we can all improve the way we operate. We all have a part to play in delivering our best performance and customer experience. Accountability sits with all, not just a few. 
⚙️ How much input does our sales team have when it comes to product development?
An effective product roadmap is created through collaboration. Sales has an important partnership role in supporting the definition of what we should be doing, and sharing what the market is talking about. It's a constant process of iterating, taking what we're building, and putting it in the context of what will solve our prospects and customer's problems, delivering real value. However, at the same time, we want to make sure anything we build can deliver maximum impact. 
🚀 What's next for you, the team and future candidates joining your team?
I'm thrilled to embark on this new chapter in the US. I consider myself fortunate to have been a part of an incredible team in EMEA, and I have no doubt that they will continue to thrive. I eagerly anticipate collaborating with my colleagues in North America and strengthening our relationships and work dynamics across the pond. With exceptional products and customers already in place, my goal is to continue to grow a team that consistently adds value and truly believes in their own capabilities.
We've not always got hiring right, as the expression goes "What got us here won't get us to where we are going". We need to constantly adapt and change. When it comes to hiring talent, we're striving to do it right with a goal of quality not quantity.

I'm excited and looking forward to building on top of an already strong team! 
We really enjoyed this chat with Matt, and hope it gives you a much better insight into what to expect if you're thinking about joining the sales team here at Beamery. 🤓
👀 You can check out our open roles 👉 HERE