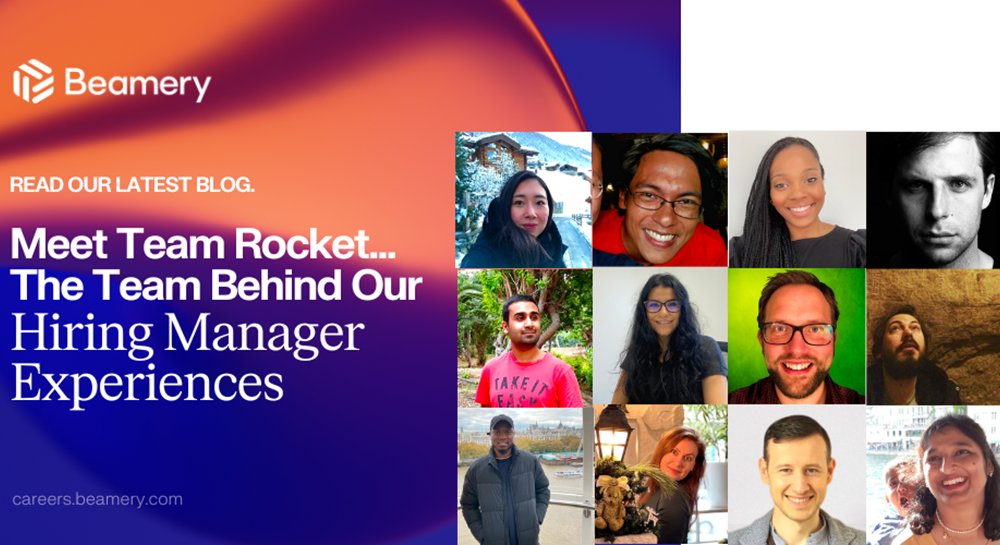 We introduced the exciting release of a highly anticipated new product capability in our Spring Launch – our new Hiring Manager Experiences. Through this new product capability, we're introducing our clients to a new world where they can easily bridge the gap between the Talent Acquisition function and the rest of the organization. Hiring Managers can now create collaborative workflows and share valuable insights, to align on role requirements, improve shortlisting decisions and reduce time-to-hire.
While there are many people and teams that are always involved in delivering new product capabilities to clients, we wanted to highlight one team in particular that had a huge hand in delivering our new Hiring Manager Experiences. Meet Team Rocket!
Welcome to the magical world of Rocketeers (Team Rocket) at Beamery! 🚀🌟
At Beamery, our Engineering, Product, and Design teams are split up into several agile delivery teams, and each team owns certain parts of our product. Team Rocket owns the core CRM user experience in the Beamery Talent Lifecycle Management System. The CRM empowers sourcers and full cycle recruiters with AI-driven tools to surface relevant candidates and quickly action these candidates within the recruiting workflow.
We had a chance to catch up with some of the members of Team Rocket about the latest Release. Here's what they had to say:
🪴 What's the culture like in Team Rocket?
We're not your ordinary team; we're a lively bunch of culturally diverse talents from all corners of the globe! From Nigeria to the Philippines, India to Hong Kong, we've got it covered. Our team is perfectly balanced with a 50/50 male-female split. Each of us has had a different journey into the world of tech – you'll find parents, teachers, bakers, and even dancers amongst us (with hardly a computer scientist in sight)! 
We're a fairly distributed team, and we connect on Zoom and coordinate on Slack daily, from some of the most incredible places. From Lake Como, Sydney, Dubai, or even a cozy tent in a Scottish field – the adventure never stops for Team Rocket.
We have a blast together and we know when to make compromises when priorities shift or when needs arise. We enjoy each other's company and frequently have team get-togethers playing crazy golf! 
With numerous exciting projects on our plate, we stand by some core principles. We respect each other's focus days and time off, share knowledge as often as possible, and always encourage each other to explore new challenges, try new things and grow together.
📚 What's the story behind Beamery Hiring Manager Experiences?
Talent Acquisition teams and Hiring Managers often struggle to align due to inefficient processes, too much back-and-forth, and a constant need to re-calibrate once the initial slate of candidates has been reviewed. Beamery is changing all of that, with new Hiring Manager Experiences: creating a bridge of trust and collaboration between recruiters and Hiring Managers.
This new innovation ensures that organizations can:
IMPROVE CROSS-TEAM COLLABORATION – Break silos and help everyone speak the same language. Help TA and Hiring Managers make better talent decisions when given more detailed information about a candidate. 
HIRE THE RIGHT TALENT – Empower TA teams with insights around seniority, experience and skills context, to ensure they are aligned with the Hiring Managers, and looking for the right type of profile.
REDUCE TIME-TO-FILL – Beamery already saves its customers 5 working days when it comes to time-to-hire. Further optimize your TA team's efficiency by understanding what vacancies they should focus on first, to hit their goals.
DISCOVER NEW POOLS OF TALENT WITH AI – Use Beamery's AI to consider adjacent skills and inferred seniority, and consider candidates that recruiters and Hiring Managers might not have searched for. Improve quality of hire and boost diversity metrics.
🧠 What challenges did the team face in building out this product capability and getting it ready for launch?
Building out this new product capability posed several challenges for the team. One significant obstacle was addressing accessibility (a11y) issues, with numerous not-so-well-documented problems that required careful resolution. For instance, HTML validation errors needed input from other teams for proper triaging. Additionally, the planning of minor releases became chaotic at times, necessitating efficient communication and coordination among team members. Moreover, refining tickets during the sprint itself was a recurring issue, resulting in the team constantly playing catch-up with evolving requirements and priorities.
Delivering this project required collaboration among multiple teams, each responsible for building separate components of the architecture. Coordinating the work between teams was challenging, but the complexity increased as the architecture evolved significantly during the project's timeline. This demanded high agility and adaptability to incorporate changes introduced by other teams. Despite these obstacles, the team's dedication and collaborative efforts were instrumental in ensuring accessibility compliance, maintaining a streamlined release process, and successfully managing evolving tasks, leading to a successful release.
💡Why do you think Hiring Manager Experiences will revolutionize the Hiring Manager and Recruiter relationship?
The new Hiring Manager experience will introduce increased visibility into the recruitment process. Both the Hiring Manager and the recruiter will gain improved insights into the stages and progress of the recruitment process. The increased visibility on both sides will empower them to have a better grasp of the status of candidates and vacancies.
🚀How do we see this Beamery Hiring Manager Experiences evolving in the future?
In the future, the Hiring Manager Experience is expected to undergo significant transformations due to advancements in technology and changes in recruitment strategies. AI-driven tools will play a more prominent role, assisting with resume screening, candidate matching, and initial interviews, streamlining the recruitment process. 
As the world of work continues to evolve, technology will have an even greater impact on the HR and TA functions in general. Virtual and augmented reality will likely be utilized in the interviewing process, offering immersive simulations to assess candidate skills. 
Data analytics will enable better decision-making, providing comprehensive insights into candidate performance and hiring success metrics. Personalization and user-friendly interfaces will be prioritized to cater to the unique preferences of Hiring Managers. 
Collaborative hiring practices will become more common in the future world of work, fostering closer cooperation between stakeholders, including Hiring Managers. Remote and global hiring will continue to expand, requiring tools to support sourcing and assessing candidates globally. 
The focus on diversity and inclusion will grow, and HR tech providers will offer greater metrics tracking and unbiased candidate evaluation. Automated onboarding and blockchain-based credentials verification will enhance efficiency and accuracy in the hiring process. 
Ultimately, these advancements will streamline recruitment efforts and improve the overall effectiveness of Hiring Managers in attracting top talent. Thank you for stopping by and learning more about this awesome team and our recent launch.

If you're interested in joining our Engineering, Product and Design team… We're hiring! Find all our roles here