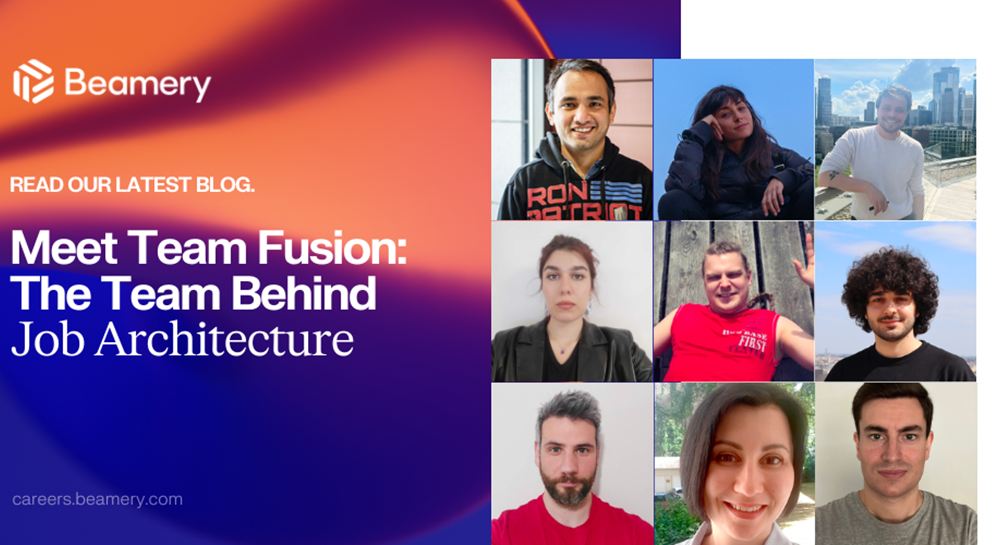 We introduced the exciting release of a highly anticipated new product capability in our last launch – Beamery dynamic Job Architecture, to help businesses lay the foundation for successful skill-based transformations. 
Organizations can now understand the skills required for any given role in their organization, keep their Job Architectures automatically up to date with AI that compares your hiring to external market insights, and unlock new workforce insights to make better decisions by understanding the skills you have and need. By combining the data with insights around their current skill portfolio, leaders can make better decisions around hiring and upskilling helping move away from stale data and expensive processes. 
We had a chance to catch up with some of the members of Team Fusion about the latest release. Here's what they had to say 🎤
📣 What does Team Fusion look after, and what's the team's mission?
Team Fusion is at the forefront of enabling skills-based transformation through a seamlessly interconnected ecosystem of cutting-edge products and solutions – all meticulously designed around the central concept of skills, and supercharged by the power of AI. Our unwavering commitment is to provide an unparalleled, innovative experience for our customers, revolutionizing the way they create, manage, and leverage their Job Architectures.
We are on a mission to infuse skills throughout our Talent Lifecycle Management Suite, ensuring that skills are not just a part of, but rather, the driving force behind every facet of hiring and talent management.  We firmly believe that placing skills at the heart of talent-related decision-making is the surefire path to success in today's fast-paced business environment.
🪴 What's the culture like in Team Fusion? 
Team Fusion is a diverse and cross-functional group of Product Managers, Designers, and Engineers. Our team is a melting pot of talent, featuring experts from various product domains, with a wide range of skills. Our expertise spans creating delightful user experiences, machine learning, frontend development, and building scalable infrastructures. This diversity of skills and backgrounds enriches our collaborative environment and enhances our problem-solving abilities.
We are a hybrid team with members located in England, Scotland, and even Germany, representing six different nationalities from three continents. This geographic diversity not only adds depth to our team culture but also brings unique perspectives and approaches to our projects.
Collaboration is at the heart of Team Fusion's success. We maintain a culture of openness and friendliness, valuing input from all team members. Our core values, "Start with why", "Ship fast but sustainably," and "Always seek feedback," guide our collaborative efforts.
We have established effective ways of working to ensure seamless collaboration despite our geographic dispersion. We operate in bi-weekly sprints, allowing us to iterate quickly and optimize for learning. We prioritize customer satisfaction and work diligently to provide the best possible outcomes and experiences.
Communication is key, and we make extensive use of Slack for collaboration activities, including Daily Standups and backlog refinement. We are committed to continuous improvement in our ways of working. We regularly assess our processes and look for ways to enhance efficiency, ensuring that we adapt to evolving challenges and opportunities.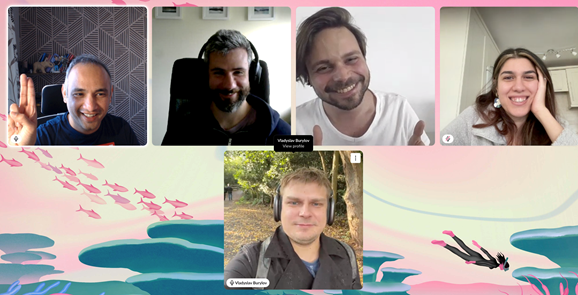 🧠 What is the story behind Beamery's Job Architecture and what challenges did the team face in building out this product?
Beamery has always focused on customer-centric innovation and putting talent first. While talking to our customers, we quickly realized that managing skills data across large organizations tends to be time consuming, fragmented, expensive and becomes outdated quickly. There is no question in our minds that the world of work is changing again. Team Fusion was formed to ensure our customers are ready for the skills-based talent economy.
Innovation is a thrilling journey, but it often comes with a unique set of challenges. One of our key challenges was uncertainty and ambiguity. As we embarked on this venture, we encountered the inherent ambiguity that accompanies any brand-new product development. We lacked reference points and historical data to rely on, making the journey unpredictable. With no existing product in the market which truly solves this complex problem, we had to be laser-focused on understanding our customers' core problems, relying on empathy and deep conversations to uncover their pain points. 
From an engineering perspective, the team encountered several challenges when building out this product capability. One significant challenge was the need to quickly grasp concepts related to Job Architecture, which was a relatively new topic to most of the team. We also brought in stakeholders and engineers who had a good understanding of the topics to get the team up to speed through workshops.
Once the team had a good understanding of the problem we were trying to solve, the engineers, product and design worked together to define the first deliverable. The engineers spun up new services and leveraged backend service templates that did most of the heavy lifting. This approach not only accelerated development, but also ensured the robustness of our backend services.
In addition, we took a similar approach on the frontend side by studying teams that had previously built similar applications. This helped us navigate potential pitfalls and expedited the frontend development process.
Throughout the project, we prioritized collaboration, ensuring that our engineering, design, and product management teams worked seamlessly together to overcome these challenges.
In summary, the challenges we faced were rooted in the inherent ambiguity of innovation, the novelty of a brand-new product, and the formation of a fresh team. Despite these hurdles, our unwavering commitment to understanding our customers and addressing their core needs is our guiding light throughout this journey
💡 Why do you think dynamic Job Architecture will revolutionize skills transformation?
In today's era of unprecedented rates of digital transformation and rapidly evolving industries, the skills landscape is in constant flux. Traditional job roles are fast becoming obsolete, while new, in-demand skills emerge with lightning speed. Enter Job Architecture – a strategic framework that empowers organizations to navigate this dynamic terrain with precision.
At the core of this transformation is Beamery's Job Architecture Portal. We recognize the profound challenges businesses face in adapting to the ever-changing skill requirements of the modern world. It's a world where the ability to respond proactively to skills gaps, plan strategically, and future-proof the workforce is crucial to business success. Our Job Architecture Portal is the answer to aligning talent acquisition and talent mobility decisions with your strategic objectives in a landscape where agility is key. 
Job Architecture isn't just a concept; it's your compass for thriving in the evolving skills landscape. It empowers you to anticipate shifts, ensuring that your talent strategies remain in lockstep with ever-changing business needs. It champions agility, promoting fairness and transparency in HR practices.
Job Architecture, in its most accurate and well-maintained form, becomes the bedrock upon which your talent strategies flourish. It's not just about staying ahead of the curve; it's about sculpting that curve to your advantage.
🚀 How does the team see Job Architecture evolving in the future?
Prepare to embark on a transformative journey with our Job Architecture Portal. Imagine a world where creating a Job Architecture takes a matter of days, not months, and costs a fraction of your current resources, thanks to our cutting-edge AI technology. Say goodbye to drowning in spreadsheets searching for skills information, and say hello to a clear and intuitive visualization of essential data. Our mission is simple: to empower you with the tools to understand your skills gaps, benchmark your roles against the wider market, and acquire the skills that drive your business forward.
Our vision is to help you easily craft a competitive, skills-based talent strategy, and help you keep your Job Architecture up-to-date automatically. We will provide deep market insights and highlight areas of concern, making managing Job Architectures a seamless process. Leveraging data from our CRM and Grow products, we offer an 'always-on' Job Architecture experience that keeps your talent strategy at the front of the pack.
We understand that skills need to be embedded into the core of all things talent. That's why we seamlessly integrate them into your Talent Acquisition and Talent Management experiences. Propagate your skills-based talent strategy across your organisation by emphasizing critical skills, setting internal training objectives, automatically fine-tuning your vacancies, and more! 
The Job Architecture Portal is not just a tool; it's your pathway to a more agile, efficient, and future-ready workforce. Get ready to revolutionize your approach to talent with the Beamery Talent Lifecycle Management suite.
If you're interested in joining our Engineering, Product and Design team… We're hiring! Find our roles here.