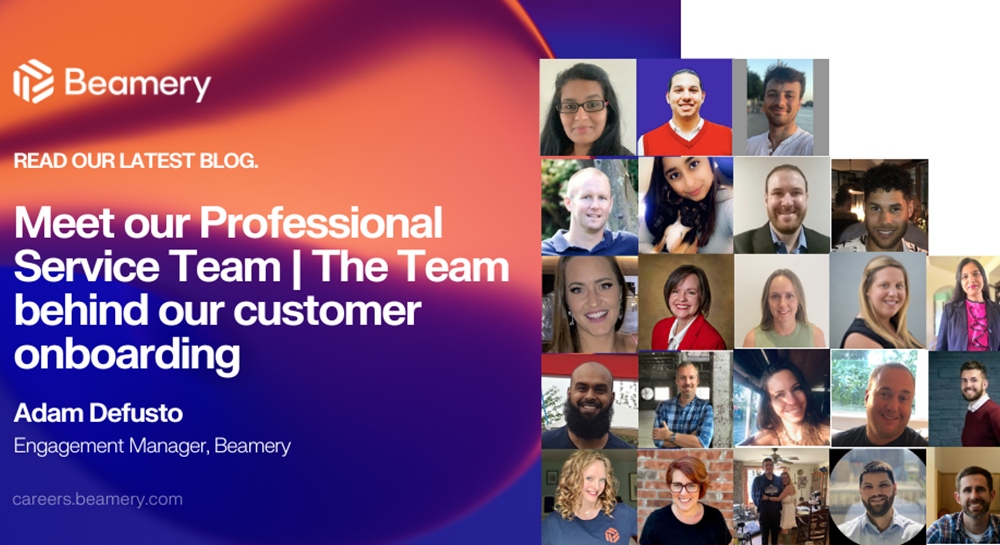 You know what a sales team does, right? And an Engineering team? But what about the Professional Services team at a SaaS company like Beamery? We thought it would be good to give you a better idea of what these #BeamTeamers actually do and the crucial role they play in implementing our solution with new customers 🤩
What does the Beamery Professional Services Team do?

The Professional Services (PS) team is the driving force behind the successful implementation and deployment of Beamery's cutting-edge projects for new customers. Our mission is to ensure that every project is managed with laser precision to meet the delivery standards set forth by Beamery's Solution Design Framework, Implementation Methodology, and best practices. Our ultimate goal? To get our clients up and running for the long haul and help them achieve their business and talent objectives. Read on to find out more about how we make this happen!
First, here's a quick breakdown of the different roles we have in our PS team, and what each of those roles does:
👉 Engagement Managers (EM) – project manage the implementation for our largest strategic/global customers.
👉 Solutions Delivery Consultant (SDC) – lead our customers through the technical implementation journey and take the lead in architecting and configuring the Beamery product suite for our new customers.
👉 Integration Consultants (IC) – lead the technical workstream for the implementation. This involves all integrations including if there is an ATS, in addition to the other tech scope.
👉 Professional Services Directors – oversee EMs, SDCs and ICs and are accountable for the strategic direction of the professional services team. 
Implementation Methodology Overview
During our implementation, we follow a delivery framework that enables your team to accelerate time to value and talent acquisition maturity by aligning your business goals and talent objectives with Beamery capabilities and best practices.

We spoke to some of the team to find out more about working in the PS department... 🧠
So, what's the culture like in Beamery's Professional Services team?
✨ Pete, (Senior SDC): The culture is agile, allowing us to have a great work/life balance. I feel very lucky to be part of an innovative and collaborative team that ensures our customers are getting the most out of Beamery, and provides a great customer experience.
✨ Jenn, (Senior EM): PS is a collaborative environment where everyone brings different strengths to the team. We have worked very hard in the last year to create a cohesive culture that is inclusive of all work styles, personalities and skill sets.
✨ Lisa, (Senior SDC): The PS team members are very knowledgeable and crucially, always learning. The global team is always eager to collaborate on troubleshooting a complex configuration, and going above and beyond on our projects.
Which internal teams do you collaborate with?

✨ James, (Senior SDC): We work very closely with Customer Success, Marketing, andmany Engineering Product Development (EPD) teams who own specific product functionalities.
✨ Savitha, (Senior EM): I work with almost all teams: CXO, Engineering, Product, Infosec, Legal, Sales, Executive Leadership, Enablement, Marketing, Support.
✨ Lisa: We work closely with the Customer Success Managers and our Product teams.
Which customer teams do you work closely with?

✨ James: The fun parts of the role for me are the customer project team and the end users; people who will be using Beamery day in day out. We have a direct influence on the  ROI and value they get from using Beamery.
✨ Lisa: We work with most of the customers' project team which includes an Executive Sponsor, Project Manager, Talent Acquisition Managers, and Subject Matter Experts.
What do you believe is the most exciting opportunity for the PS team?
✨ James: Each customer comes with their own nuance of nurturing and engaging with talent and each customer might be different in their maturity with a Talent Lifecycle Management product. The biggest opportunity for our team is leveraging the data intelligence with AI and insights within the system and showcasing the benefits to give an efficient and scaled solution to every customer.

✨ Lisa: How we can streamline internal processes and improve the candidate journeys for our customers.
What are some of the key themes that you get to see from our customers about how they use Beamery?  
✨ Pete:
Customers want to improve their candidate experience
Attract diverse talent pools
Improve the sourcer/recruiter experience and resolve pain points such as repetitive, administrative tasks that can be automated
Improve brand awareness utilizing effective campaigns and nurturing
Event Management and simplifying the process
✨ Savitha:
Having a central system for sourcers and recruiters to search and manage talent more efficiently
Build a single source of truth for all talent
Drive efficient business process through automation and AI
Data enrichment
Consent management
Why do you think Beamery's PS team is so important for our customer implementations?

✨ James: We provide the best practice, we have seen and experienced the different configurations of Beamery and how they get the best out of Beamery, depending on where the customer is at with their journey into Talent Lifecycle Management Systems. I like to lean on my past experience as a recruiter myself to empathize with customers and Beamery end users which allows me to understand their workflows and consult on how they can improve by using Beamery.
✨ Jenn: We are the first experience the customer has inside Beamery for the most part. The customer project teams for implementation are not usually the folks that were in the Sales process. Through our workstreams, we guide the customer to make their configuration decisions for the platform, which determines the new business as usual for their company post Go Live. We also explore mapping the process and their candidate journey for more impactful and specific decisions which increases their knowledge of how the Beamery functionality all works together. Lastly, we train the customer on best practices and utilizing their new platform while also assisting them in crafting a change management approach and timeline that will drive their engagement and adoption numbers through the roof. 
✨ Savitha: Professional Services is the voice of the customer. We demonstrate value as clients' first responders. We have a huge influence on the growth trajectory of a SaaS company because they are responsible for delivering on the promises made in sales and helping customers to realize value from their investment.
What is your favorite Beamery functionality and why?

✨ James: Finding similar contacts and suggested contacts using our AI. At the click of a button you can search for talent based on unbiased data and explainable scoring. This can help a recruiter find a talent pool, or a specific individual, which really saves you heaps of time and encourages more skills based recruiting into your processes.
✨ Pete: The Campaigns Module - the interface is so user-friendly and intuitive to create unique and visually appealing content.
✨ Jenn: Suggested and Similar Contacts. Being able to add an Ideal Candidate profile from a Hiring Manager's description and then let Beamery's AI suggest potential contacts to that profile is a great time-saver and producer of high-quality candidates.
✨ Savitha: My favorite functionality is AI, as it does a lot of magic silently (behind the scenes) but the result lights up the room (vacancy calibration, suggested contacts, explainability). Technologies like AI are powerful tools recruiters can use to sift through large amounts of data to suggest better candidate matches. Looking forward to TalentGPT!
What Beamery features do your customers love?

✨ Pete: The Chrome Extension - with the enrichment and parsing capabilities, it makes adding contacts to your database very quick. A customer recently told me that the best thing about our product is that it keeps growing. With our big seasonal releases, customers can continuously expect a range of updated functionalities and new capabilities – we are always improving!
✨ Jenn: Segmentation through pipelines and pools. A lot of our customers don't currently have this functionality.
✨ Savitha: Our AI and Extension (in my experience) are our customers' favorite functionalities. They both help organizations make faster and more informed decisions which improves business operations and in turn, increases productivity.
✨ Lisa: Customers love the Recipes! Creating recipes to automate manual tasks is a huge advantage over other systems and saves recruiters, sourcers and brand teams so much time.
What do you feel that our Professional Services team does differently than other organizations that you've worked in?

✨ James: It comes back to the same principles that I think defines our team and our culture. The people in the team, the supportive and encouraging leadership where you have the ability to make your own mark.
✨ Lisa: I've worked in Professional Services for almost 10 years. Beamery is different because as most companies, everyone is onboard to help you when you first join the company, meaning answering questions and being available for your success. Over time that typically goes away and that is not the case at Beamery. It's the same now as it was 18 months ago when I first joined. Our continuous learning and freedom to be curious culture allows this.
✨ Laura (Senior EM): My experience is that everyone in the PS team really cares about the customer and setting them up for success. There is an awareness that implementation is just the first step in a customer's journey, but we also have a strong focus on supporting change management and long-term adoption right from implementation kick off which I haven't seen working with other technology providers.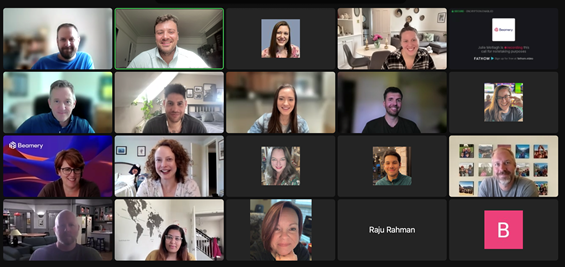 How do you expect the PS team will grow and improve over the next 12 months?

✨ Jenn: We currently have many internal initiatives to ensure accurate documentation of functionality, creating Smartsheets champions and creating more hands-on training. There will be greater opportunities for customers to be even more engaged in the implementation process and build libraries of assets that will lend further assistance to the customer's project teams.
✨ Savitha: The PS team engages actively in different internal gigs. We are engaged in upsell opportunities and constantly collaborating to reach the next level of our organizational maturity.
✨ Laura: We are starting to partner more with the Sales organization and Product. This will help in adding more knowledge about the day to day operations that customers want to know. This also translates into enhancement requests from our customers that the PS team can support, which will make Beamery better overall by listening to our customers.
​​Thank you for stopping by and learning more about this awesome team. Find out more behind the scenes snippets on our Commercial Team page.
If you're interested in joining our customer organization, keep an eye out on our careers page!