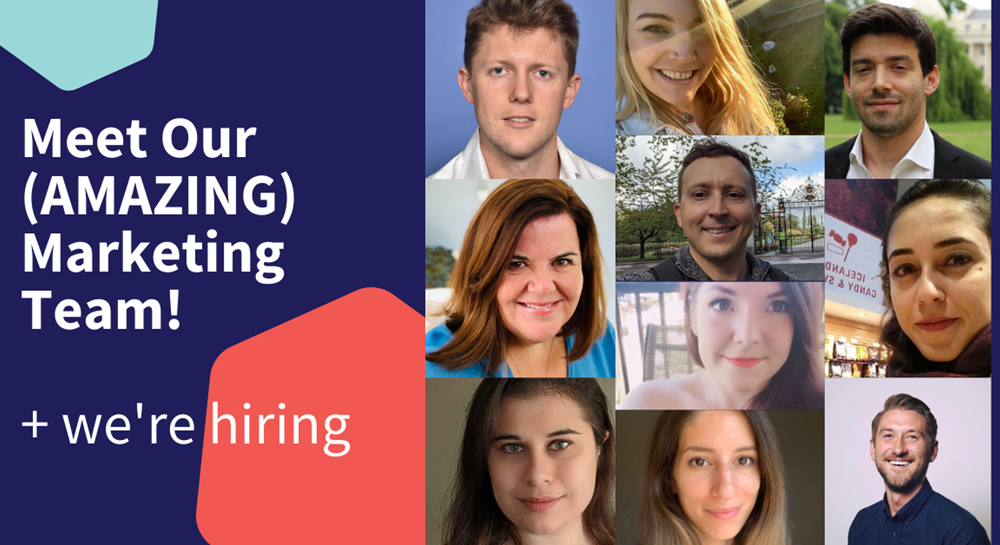 Today we wanted you to meet our marketing team. They are a fun group of smart, passionate and talented people who are currently hiring! We've asked them all to share a little about themselves, so you can understand what it's like to work in Marketing at Beamery. Can't wait to join them? Find all our open Marketing jobs here and apply today.
Meet the team!

Ben Slater - VP of Marketing
"I have been with Beamery from the very early days, back when we were a small, ambitious band working out of our co-founders garage (like every great Silicon Valley startup story…) It's been a long and winding road since then, but I've never been more excited about our team, and our opportunity to build a new category within the talent space and drive talent transformation for the world's largest and most innovative businesses. Not only is our team made up of some of the sharpest, most creative, most collaborative people you will meet, but they are also all wonderful humans and I can't think of anyone I'd rather build a company with! We're looking for people who want to push the boundaries, who are deeply customer centric, and who wake up every day thinking about how they can make a positive impact"

Allyson Holbrook - Head of Marketing
"I joined Beamery in February 2021.  My career started as a Financial Analyst.  I made a switch to marketing about three years in.  I realized I was intrigued with figuring out what would resonate with a consumer or customer, what would drive their initial purchase or retain them as a customer.  How do we stand out vs competition, what are those unique moments.  With Beamery I was able to return back to the HR industry and dig into the minds and behavior of that function. Beamery is at a pivotal moment for a company with hyperscale growth - it's fast, it's busy, there are a lot of smart, awesome people...it's a 100% opportunity to thrive and build your journey, particularly as a marketing professional. "

Sophie Coleman - Director, Product Marketing
"Product Marketing is a space where many worlds collide; Sales, Customer Success, Product and Marketing, which makes it exciting at any organization. At Beamery, however, it is supercharged: we collaborate and align activity across the entire business delivering a strategic impact on Beamery's direction, and consequently on our entire space. If you're curious, keen to learn and eager to make a difference, there's no better place to be!"

Roie Gortler - Manager, Product Marketing
"I joined Beamery in April 2021. I started my career in editing and PR and made a switch to advertising. I spent the last few years doing marketing at tech companies and startups, as I wanted to work in a more agile and fast paced environment, where you can have more impact and help companies to grow. Joining Beamery was a very easy decision, as it has a great combination of inspiring mission, great product and a culture of collaboration and open communication. I'm very excited about starting my Product Marketing journey at Beamery as it brings into practice many areas of interest I have."

Amberlie Denny - Director, Digital Marketing
"I joined Beamery over two and half years ago because I was incredibly impressed with the product and company. After a few years as a marketing generalist I was looking for a role that took me back to my marketing roots - Demand Generation - so when the role came up at Beamery I jumped at the chance to join and have never looked back! In the time I've been here we've built an incredibly strong team full of smart, driven, talented marketers, I couldn't ask for a better set of colleagues."

Nada Chaker - Senior Manager, Campaigns and Content Marketing
"I am a generalist marketer and I joined the team right after my MBA, because it was the perfect place for me to touch on a few different things and then figure out what my path would look like. It has been an incredible journey over the past four years: I am surrounded by super smart people who genuinely care about doing the best possible work, and who always treat each other with kindness and empathy."

Sam Macleod - Senior Digital Marketing Lead
"I joined Beamery in December 2019 and it still never gets old. My background started agency side, primarily social media, from there I've joined a mix of unicorns, Fortune 100s and early stage start-ups, working across all things digital and growth. Beamery is filled with some of the most ferociously smart people, on a mission to empower companies to create people first organisations. It's a great cause and a great place to work."  

Amy Bennett - Digital Marketing Manager
"I joined the digital marketing function within the marketing team at Beamery in March 2021. It's been a whirlwind - I've loved it and have learnt so much. I've explored different marketing functions over my 7 year career, and settled in digital 5 years ago. Beamery was an obvious next step for me, working with a super smart team who can help me to grow and progress, while giving me incredible opportunities to contribute to the team's success. Outside of work I love to read, and have joined Beamery's book club too!"

Lachlan Maule - Senior Manager, Marketing Operations
"I joined Beamery in March 2021 to create the Marketing Operations function because I could see the potential Beamery had as a company with a great product. I see Beamery as a place I can grow my career as the team is growing so much and with that comes opportunity. Marketing Operations fascinates me because it is at the intersection between sales and marketing and means it has a big impact on the business. Outside of work I like family time with my wife and daughter, particularly exploring the great outdoors."

Lissa Maine - Senior Manager, Events & Partner Marketing
"I joined Beamery in July 2021 to build marketing plans and campaigns both for North America events and with our partners. Having managed every aspect of marketing throughout my career, I most enjoy activities that have the highest impact on customers. I love the unique opportunities events provide, like connecting with clients in a casual setting, seeing a brand come to life, and getting real-time feedback."
Now that you've met our team, you probably can't wait to join them. Good news, we're hiring! Find all our open Marketing jobs here and apply today.
Current Jobs Include:
Senior Manager, Product Marketing - London
Senior Manager, Field Marketing - London
Director of Customer Marketing - Austin
Director of Acquisition Marketing - Austin