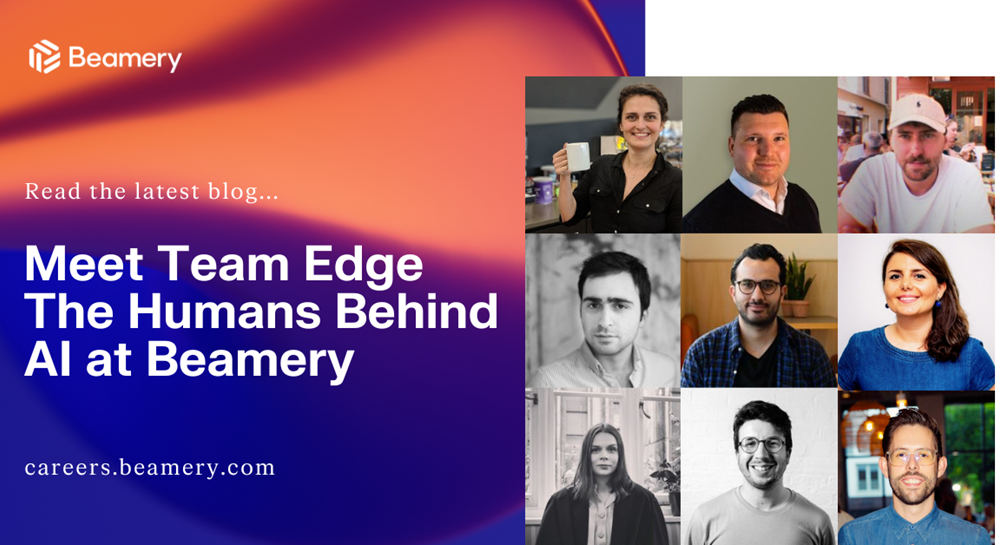 After this Summer's Product Launch, we're excited to shine a light on Team Edge. Edge is one of our Engineering delivery teams responsible for keeping Beamery at the forefront of HR technology by building explainable AI to support our clients biggest talent challenges. They are a super-powered team, with people from all walks of life, experiences and backgrounds. 
Thanks to this amazing team, our AI and Skills innovation is evolving. We already use AI across our products, but we're building better, ethical, compliant experiences to power our mission to create equal access to meaningful work, skills and careers for everyone. We're doing this by creating transparency within AI and evolving our talent matching, career pathing and universal skills platform capabilities. 
We wanted to get to know this team better, so we asked the team some questions below!
What's the culture like in Team Edge? 
We are a multidisciplinary team of data scientists, machine learning and knowledge engineers and product managers. The team is responsible for building cutting edge AI solutions for the core Beamery product. It's really exciting stuff! We use a special type of graph database to power everything we use. The nature of the work is highly experimental, which means we are constantly asking each other questions and bouncing ideas between ourselves. 
Unlike classic software engineering scrums, we don't tend to operate in sprints. The work we do is more unpredictable, and we plan work on a quarterly basis. One thing that we really value is feedback amongst all of our team members. It's really important that what we are producing is sound and ethical AI solutions, and collaborating across the team is a key part of this.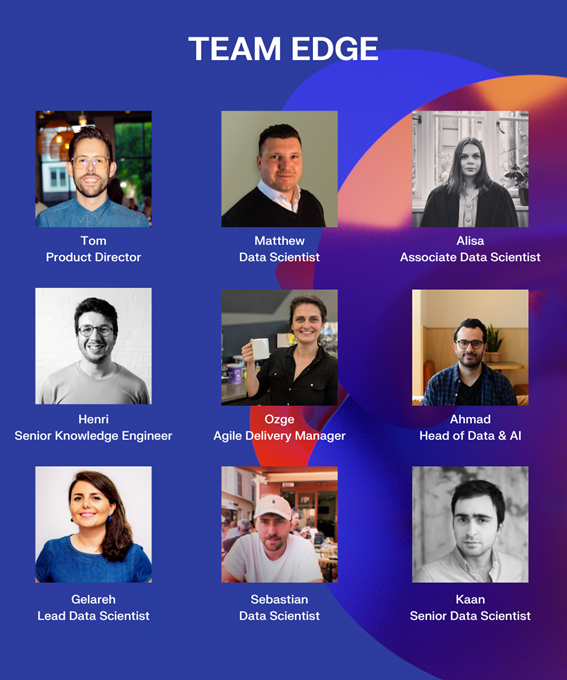 What do you believe is the most exciting opportunity for Team Edge?
Right now we are at the start of a new era of HR technology where we can genuinely revolutionise the experience of employees and talent management professionals. For us, the most important part of this is using semantic web technology to merge and combine multiple datasets to build AI solutions on top of. 
Before now, enterprise software has siloed information about employees and potential recruits in multiple different systems. Using the power of knowledge graph technology, we are able to combine and reconcile different datasets about people, skills, companies and education. This is helping us build cutting edge AI solutions - for instance, matching candidates to jobs. What are the most important aspects of working with AI? 
One of the most important considerations for the team is ensuring explainability in the AI models that are produced and shipped to customers. It's extremely important, both ethically and from a business point of view, that we can provide rationale for the inferences that we produce. This is becoming more and more important in the industry, and we pride ourselves on the quality and commitment to explainability in the Edge team.
How will AI change the future of talent?
Ultimately AI is going to drive efficiency, and improve candidate experience. Our team are seeing this happening in two ways. Firstly, candidates and talent are going to be more mobile as their skills are better utilised. People will be hired and promoted based on potential and skills, not just education and location. For talent leaders, AI is going to enable tools that will give a complete holistic picture of current talent, and the challenges in the future. 
What's your advice for people thinking of getting into AI?
Don't be scared to try! There are so many resources online to get started completely for free. Having some understanding of python beforehand would help. However, the best thing you can do is have a small personal project to work on yourself - don't just do tutorials online. Get stuck in.  
Are you interested in joining Team Edge or being part of our amazing Engineering, Product and Design team? Visit our open roles and apply today.