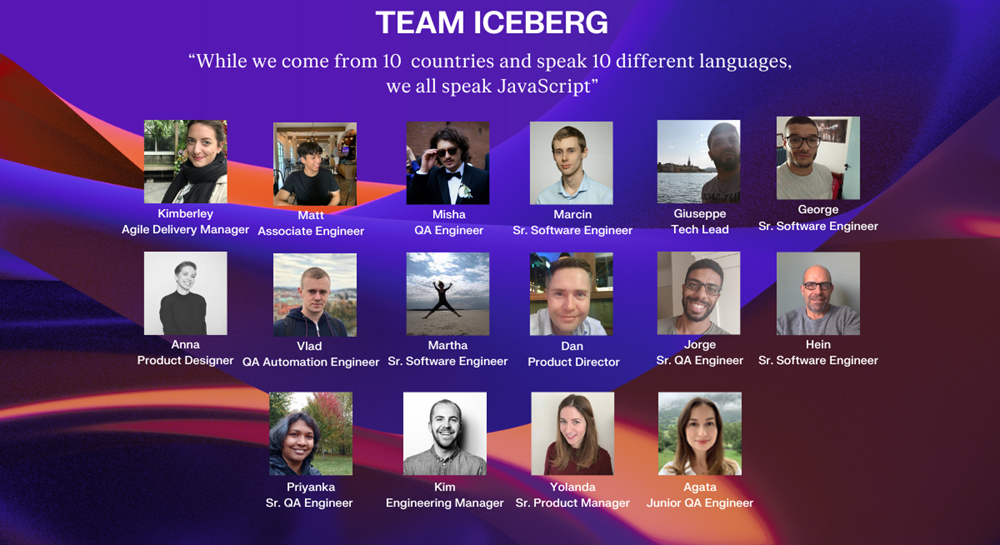 On May 31st, we shared the exciting release of a long anticipated new product in our Spring Launch, Beamery Talent Analytics. Through this product we're introducing our clients to a new world of analytics to help them get answers to the questions that matter most. 
While there are many people and teams that are always involved in delivering new products to clients, we wanted to highlight one team in particular that had a huge hand in delivering Beamery Talent Analytics. Meet Team Iceberg.
More about Team Iceberg (yes, like the lettuce 🥬 )
At Beamery, our Engineering, Product, and Design teams are split up into several agile delivery teams, and each team owns certain areas of our product. Team Iceberg leads on insights, intelligence and information. They build powerful features that make data and insights, such as the health of a candidate population and the performance of a company's Talent Acquisition team, easily accessible. Without this team, our clients wouldn't have the powerful data they need to make smart talent decisions each and every day. 

In Team Iceberg's own words: We are a full-stack product team with all the capabilities required to independently discover, design, develop and deliver features to our customers. We come from 10 different countries, but we all speak JavaScript! When we're not writing beautiful code or planning shiny new features, we're into classical music, baking, snowboarding, French and Palestinian food, dancing the tango, whisky, bubble tea, swimming, playing the guitar, hiking, cycling, kayaking, weightlifting, golfing, gardening, or fantasising about being a DJ. We have 3 dogs, 2 rabbits, 7 rats, and 3 mischievous cats that love stealing food. We would love to get 2 goats one day but flats in London are too small. If it wasn't clear already, we are known as the "social team", which other teams across the organization look to for inspiration!
We had a chance to catch up with some of the members of Team Iceberg about the latest Spring Product Release. Here's what they had to say:
What's the story behind Beamery Talent Analytics?
As a Talent Leader, it's hard to get insights around how your talent initiatives impact key metrics like Time to Fill or Time to Hire. Likewise, measuring how long it takes to get a slate of candidates to a hiring manager once the vacancy has opened, and being able to understand what drives efficiency in the sourcing process, is very difficult using just the data from within the ATS. We also spotted that, although the candidate experience is highly valued, not many solutions in the market gave a talent team the ability to understand candidate velocity through their process and spot opportunities to improve.
The biggest challenge, both from a conceptual and engineering perspective, was to account for all questions a Talent Acquisition Leader may have across all of our customers and industries. This is no standard reporting solution. This is a first in HR Tech: the ability to answer any question about how long any aspect of the candidate or recruiter experience takes, and dive into this data to find actionable insights. This meant we needed to build flexibility into the core of the product, giving a Talent Acquisition Leader the ability to slice and dice their data in real time to get to the answers they need.
What sort of challenges did the team face in building out this product and getting it ready for launch? 
Our dream was to build  reports that would deliver value to Talent Acquisition teams and aid businesses make critical decisions in their hiring processes. But, in order to make dreams come into reality, it takes an awful lot of determination, dedication, and team effort, and that is exactly what Team Iceberg has been delivering. 
It has been challenging to curate data that is time dependent and then present this to our Talent Acquisition managers in a way that is easily understandable and useful. This translation work, to make our reports deliver value, has been the key driving factor of our work.
The team has been extremely quality focused, challenging each other during the multiple group brainstorming and testing sessions until we all have been satisfied with the outcomes. Time is the key ingredient in our Beamery Talent Analytics reports. We also understand that the data we have been dealing with is historical in nature, and data issues in the past can't be fixed.At the same time, such data cannot be ignored. We had to build our systems intelligently enough to account for such edge cases and scenarios in the best possible way.
If you want to learn more about the engineering for the underlying infrastructure, please check out this article from our senior principal engineer Paul on how we solved for handling event data at scale .
How do we see this Beamery Talent Analytics evolving in the future?
The first cliff was particularly steep, and now that we have the backbone infrastructure in place, we are in a position where we can continue to add features incrementally. The next iterations will primarily focus on further improving the usability and experience of the overall reporting tool, making it even more accessible and easier to use. Our goal is to provide bite-sized reports that require almost no user interaction in order to be consumed: you can access personalized and context-specific reports that you care most about right from the home page. We believe that reducing friction will dramatically reduce the learning curve required to use our product. After that, we will shift our focus to adding more capabilities, such as historical contacts, and diversity and inclusion analytics.
Thank you for stopping by and learning more about this awesome team and our recent Spring Product Launch. If you're interested in joining our Engineering, Product and Design team…

We're hiring! Find all our Engineering, Product and Design Jobs here.